You are here
The Nectar Trail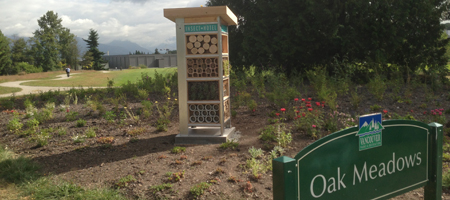 For millennia, bees have flown from one plant to the next, gathering nectar and pollinating as they go.
It's an important role – an estimated 30 per cent of the world's food crops and 90 per cent of wild plants rely on bees for pollination. But due to increasing land development, bees in Vancouver are facing hard times. Areas of green space, where the bees can live and interact, have been reduced to "habitat islands" in urban areas.
The Environmental Youth Alliance (EYA) aims to protect bees in the face of urbanization. With help from the City of Vancouver and the Vancouver Park Board, EYA's new Nectar Trail initiative will develop the Ridgeway Greenway between Queen Elizabeth Park and VanDusen Gardens into a green space corridor.
Thanks to a $20,000 environment grant from Vancouver Foundation, Nectar Trail will help create habitat-rich sites in the corridor, and bees will have safer passage between Queen Elizabeth Park and VanDusen Gardens. Human visitors to the trail will benefit too – at designated sites along the way, you will be able to scan a QR code (barcode) with your smartphone to access interactive new media, such as videos and websites, that demonstrate the value of the project and explain site-specific information. VF
The Nectar Trail is creating quite a buzz. Find out more at http://nectartrail.com
By Graham Lee
Photos Erin Udal