You are here
No Place Like Home
Broadway Youth Resource Centre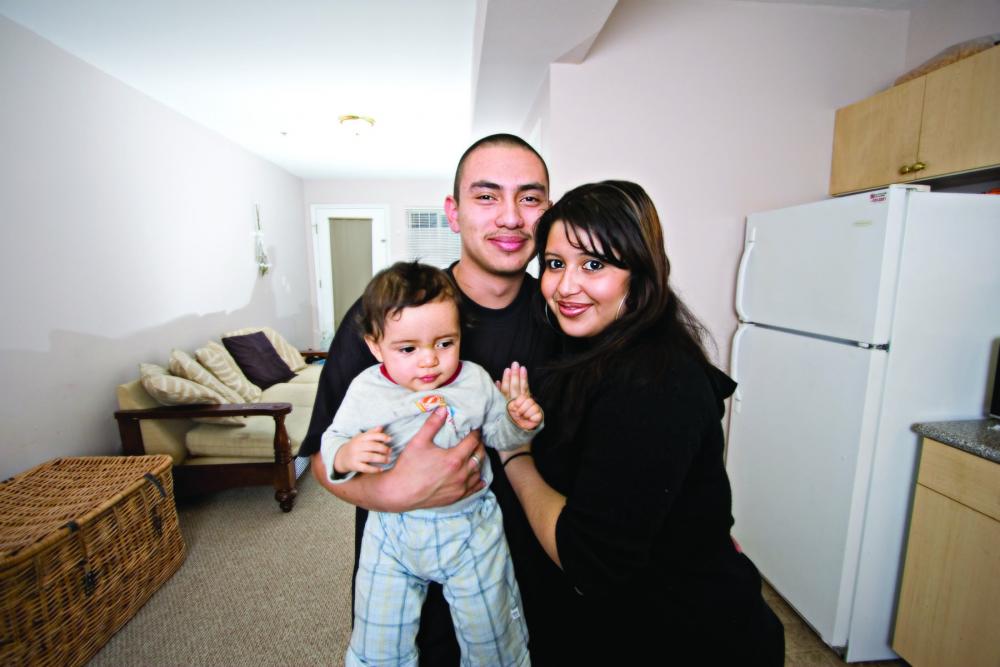 "The baby was two weeks old, and we were staying with one friend, then another, at my grandma's place, all over. Nick couldn't stay with the baby and me; he had to stay somewhere else. Our stuff was all over too, stored at different people's places . . .
"The baby was waking up every few hours, because at that age they don't sleep very long. The whole thing was really hard. It was really hard on the baby, too. That's when I told Nick, 'We really need a place of our own.'"
Joana was 16 years old and living with her mom when she got pregnant. Joana's mom told her once the baby came, Joana and her partner Nick would have to get their own place. But that was easier said than done. Finding affordable housing in Vancouver isn't easy for anyone, but Joana and Nick had extra challenges.
"People don't want to rent to people our age. And they especially don't want to rent to you if you have a baby, because people don't like to hear babies crying," explains Nick, who was 17 when Izrael, now a smiley 10-monthold, was born.
So when the young couple had the opportunity to move into a two-bedroom apartment through a housing support program, they didn't hesitate. Besides helping them secure a place to live, the program, run through the Broadway Youth Resource Centre, helps with the rent, teaches life skills such as budgeting and housekeeping, and acts as an intermediary between tenant and landlord. "The program made everything a lot easier," says Nick.
Now that their home life is stable, Joana and Nick have been able to focus on finishing high school; Izrael goes to an on-site daycare at Joana's school. In the future, Joana dreams of working in dance – "I'd love to be a professional dance instructor," she says, flashing an excited, hopeful smile – but thinks a career as a hair stylist is more likely; the school she goes to offers a hair stylist apprenticeship program. Nick, meanwhile, has his sights set on a career in film, working as a cameraman.
Whatever the future holds, the couple is proud of what they've already accomplished. "Since I got pregnant I've learned more than I learned in any other time in my life – about being a mom, how to take care of a home," says Joana. "And I feel like I'm a really good mom, and Nick's a really good dad. We're doing really good."
Couch surfing with a newborn isn't what most people think of when they imagine "homelessness." But many of the people experiencing homelessness, or at risk of experiencing homelessness, defy common stereotypes.
"There are single moms who, with their kids, live in their cars in the summer to save on rent," notes Catharine Hume, who heads Vancouver Foundation's Homelessness Initiative. "As well, quite a few people experiencing homelessness have had brain injuries, which compromise their ability to function. The reality of homelessness is often much more complex than many people realize."
Many people think homelessness happens to 'someone else' – people unlike them," says Jake Kerr, chair of Vancouver Foundation and president of Lignum Investments. "But the reality is that, at any time, any one of us can face the reality of homelessness. One accident, one financial misstep, one misfortune in life . . . and any one of us could be in that situation."
Unfortunately, more and more people are finding themselves in exactly that situation. A 2008 count of people experiencing homelessness in the Metro Vancouver area showed an increase of 19 per cent since 2005, and communities across B.C. are facing similar increases. Vancouver Foundation recently asked British Columbians what was important to them. Not surprisingly, communities across B.C. identified homelessness as a major concern. So Vancouver Foundation decided to step up to the plate.
"Homelessness is a difficult social problem, but it's not unsolvable: Joana and Nick are proof that with the right support, people can find good homes and thrive. It's an issue that really matters to British Columbians, and it's an area in which we at the Foundation feel we can really make a difference," explains Kerr. "That's why the Foundation is now making addressing homelessness a longterm priority."
Vancouver Foundation has a strong history of supporting organizations, such as the Urban Native Youth Association and the Portland Hotel Society, that provide services, supports and housing to people experiencing homelessness. Now Vancouver Foundation wants to become more strategic and purposeful in its efforts, and take action to accelerate progress on reducing homelessness.
As part of this new focus, the Foundation is directing resources towards assisting a particularly neglected homeless population: youth like Joana and Nick.
Every day in Vancouver, an estimated 400 to 600 people between the ages of 16 and 24 experience homelessness, or are at risk of being homeless. Local experts say this group has particular needs that aren't currently adequately addressed.
"Youth fall through the cracks in the system," notes Hume. "They generally haven't had the support needed to transition successfully to adulthood – but often they're no longer eligible for the supports available to children."
Hume explains that youth who are dealing with or are at risk of homelessness need specialized help to continue with schooling, learn to manage a household, find work and develop effective employment skills. Often, these youth are also dealing with mental health and addiction issues that they themselves may not recognize.
The Foundation believes that if these youth can get help early on, preferably before experiencing homelessness or at an earlier stage, young people who might otherwise face escalating – and increasingly intractable – problems over the long term can stabilize their lives and move forward.
"Helping young people is intrinsically the right thing to do," says Hume. "And it also really benefits our communities as a whole when young people have safe, secure and affordable housing and supports in order to fully participate in their communities."
Joana and Nick are proof that, with the right supports, people dealing with homelessness can not only find housing, they can thrive. By bringing additional focus and resources to tackling this complex issue, Vancouver Foundation aims to help more British Columbians experience the solid life foundation provided by a home of their own.
(Story written: 2008)
Your Comments:
October 1, 2011
The foundation's work helping young people find homes and giving them a helping hand shows the spirit of generosity and loving kindness in action. We all make mistakes and deserve second chances. You are doing a great job. May your organization get the support you need. I am inspired to work in a similar job back in the developing country where I come from.
Amelia, Vancouver