You are here
Origami Kid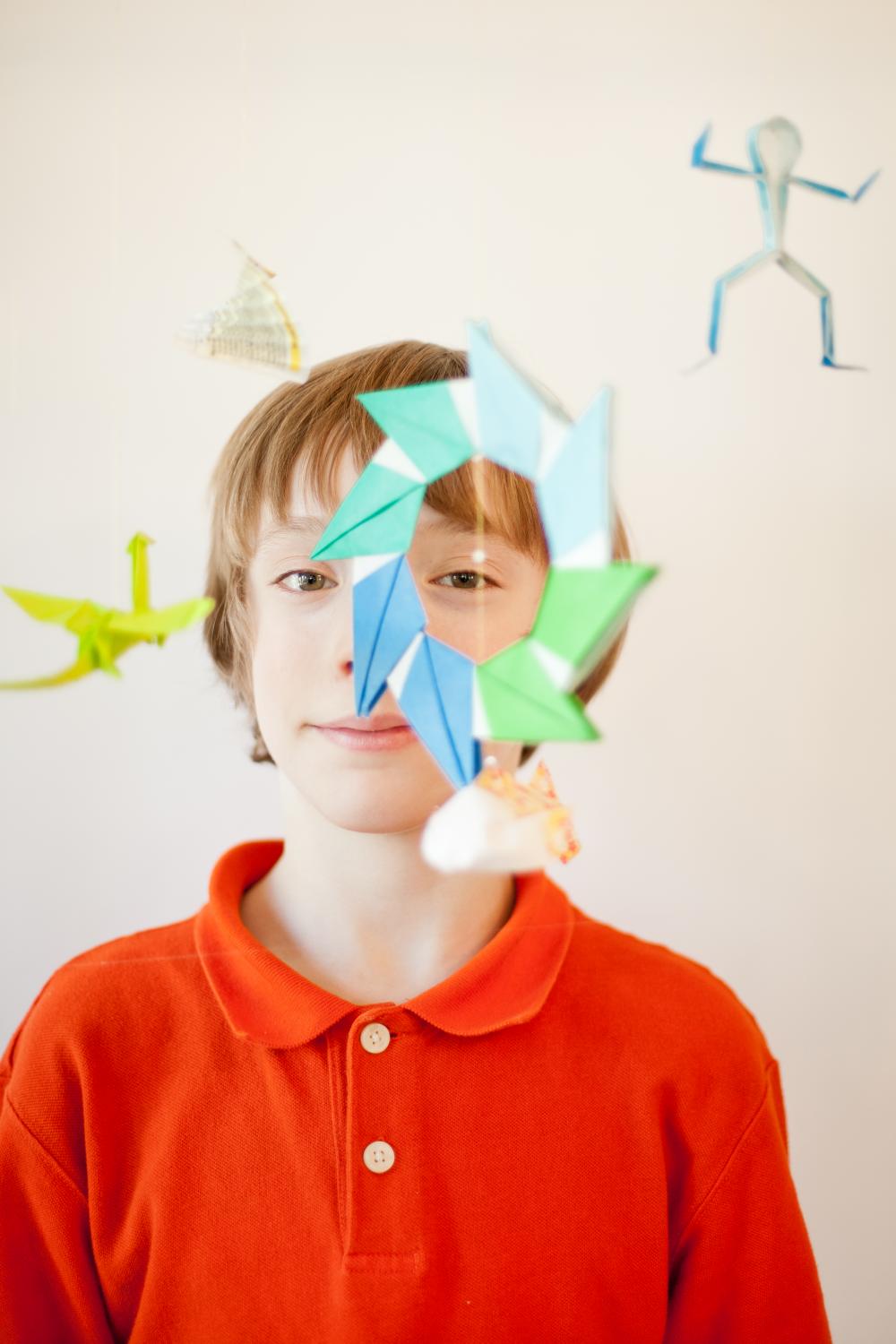 Nathan Coburn is the Origami Kid – and a stealth community nurturer.
The enthusiastic 11-year-old with the nimble fingers paws through a vat of his brightly coloured origami creations to show off some of his favourites: a surfer on a wave, two grooving dancers and a sheet of complicated folds that create a shimmering optical illusion.
"That's a tessellation," Coburn explains. "Oh, and I like this one, too," he says, pulling a blue monster with chomping jaws out of the jumble of hundreds of origami pieces he's made. "It's another Jeremy Shafer design... I learned how to do it off YouTube."
Origami is a passion for Coburn. After learning origami basics from a family friend at the age of five, he started ploughing through origami books and YouTube tutorials. Soon he was spending every spare minute meticulously folding squares of paper into intricate designs. People loved his creations, and he was coming home from school with lists of origami requests.
Then Coburn heard about Vancouver Foundation's Neighbourhood Small Grants (NSG) program that supports initiatives by residents to improve their neighbourhood through grants of up to $500. The rationale for the program is simple: when residents become active in their neighbourhoods, communities are strengthened from the ground up.
Coburn learned that NSG funds have been given to host block parties, build community gardens and hold workshops on every- thing from model-making for kids to Chinese brush painting for seniors. He decided to apply for funding to give an origami workshop, to enable the many people who had expressed an interest in his origami to give it a try on their own.
"I just thought it would be cool," he says, shrugging and fiddling with a carefully constructed star shape. He was awarded a $60 grant, which covered the costs of renting a space, putting up flyers and supplying origami paper and snacks.
Even though the workshop was held during the busy pre-Christmas period, it was a big hit – 25 people showed up and learned how to make origami cranes. (Coburn had modified the design to incorporate a bell, so that the cranes could double as Christmas ornaments).
"It brought together a bunch of people from Nathan's different worlds," says his mother, Susan. "He has friends from different schools, from ballet, church and neighbours... It was a great excuse for all these different people to meet each other, get together and have a great time."
The NSG program has a reputation for connecting people from "different worlds." This is part of its popularity, and one of the reasons the 14-year program has been expanded two years running.
In 2011, Vancouver Foundation undertook a community consultation to find out where people in metro Vancouver thought the organization should focus additional resources. The results were surprising: people were, predictably, concerned about issues like homelessness and affordability, but what concerned them most was a growing sense of isolation and disconnection from others in their communities.
The Foundation decided to focus on projects that build people's connections to each other and engagement in their community. Expanding the Neighbourhood Small Grants program was a natural first step toward that goal.
"NSG offers great value for the investment," says Lidia Kemeny, who co-ordinates the program.
For example, not only did the origami workshop bring 25 people together for $60, it had positive ripple effects. Emboldened by his success, Coburn now plans to apply for a larger grant to organize a summer block party that will help people on his street get to know each other. He's even willing to work through the intimidating process of applying for a City permit to shut down his street. His confidence and his community leadership skills are burgeoning.
Adults, too, were encouraged. One woman says her own NSG project was inspired by the success of the origami workshop. "This woman said she had heard about a 10-year-old giving a workshop and thought, 'If a 10-year-old kid can do it, I can do it too,'" says Kemeny. "So she applied, got a grant and taught a series of free meditation workshops.
"In 2011, we expanded the NSG program to four new neighbourhoods: Kitsilano, the West End, the North Shore and Surrey. We gave out a total of 604 grants in 13 neighbourhoods. This year, we are expanding the program to New Westminster.
"The grants themselves are very small amounts of money. But the community they create? To steal a line from a popular ad campaign, 'that's priceless,'" Lidia concludes with a laugh.
Nathan Coburn has been a real success on paper, and in his community. At Vancouver Foundation, we're looking forward to seeing the ripple effects that he and the Neighbourhood Small Grants program, as well as our new Connect and Engage priority, will have in communities across metro Vancouver.
For more information on the Neighbourhood Small Grants program, visit the program page or call 604.688.2204.