You are here
Pumping up
University of British Columbia - Dept of Physical Therapy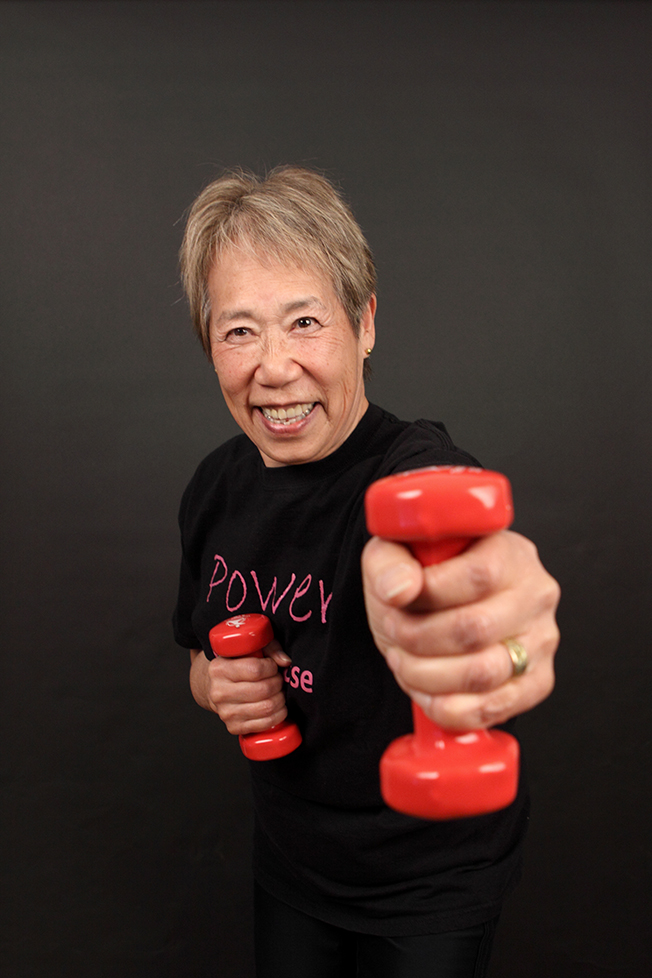 Seventy-year-old Joyce Mar did not like lifting weights. But when an opportunity came up to participate in a free six-week exercise program as part of a UBC pilot study on how weightlifting affects cognitive function, she signed up, partly out of curiosity and partly because it was something she thought she should be doing.
When the six weeks were up, she was enjoying it so much she didn't want to stop. And she didn't have to. Vancouver Foundation gave the UBC project a $50,000 grant to develop it into a full-fledged year-long study of 155 Vancouver area women aged 65 to 75.
Led by UBC's Teresa Liu-Ambrose, the results were published in January 2010 in the Archives of Internal Medicine and reviewed by the British Medicine Journal, a very prestigious accomplishment for the 37-year-old Assistant Professor in the Department of Physical Therapy at UBC. 
"Simple training with weights improved the ability to make accurate decisions quickly for the women who participated," says Liu-Ambrose, who used a variety of different tests to measure this ability. One example is the Stroop test, which seems designed to confuse. The test culminates with participants having to look at 120 words that are all colours, written in a different colour of text, but instead of reading the word they have to say the colour of the letters.
Weight-training improved executive cognitive functions in the women who took part in the study – these are the functions that make a difference in life's little, yet important decisions that allow elderly people to function independently. For example: paying a bill, planning a meal, or even avoiding a fall.
"A key risk factor for falls is cognitive impairment and if you look at the research in the past this has been raised for many years now," says Liu-Ambrose who conducted the study out of the Centre for Hip Health and Mobility, run by Vancouver Coastal Health and UBC.
The statistics are daunting. Approximately 30 percent of BC seniors experience a fall each year and the resulting hip fractures cost the health care system $75 million, according to statistics provided by the Centre for Hip Health. As baby boomers retire in droves, the number of B.C. seniors is expected to increase 220 per cent by 2031, which means falls and the consequent medical costs will only become more of an issue.
The study also lends credence to the possibility that weight-lifting could help avoid the onset of Alzheimer's and dementia.
"Exercise to me is a beautiful strategy," says Liu-Ambrose. "It can be applied at a population level fairly easily and has so many other benefits other than cognitive function, it seems to me to be an easy sell."
The study was quite empowering for the women who participated, says Liu-Ambrose.
"Not many older women think of resistance training and, if they do, they typically use very light weights or a thera-band. We put them with weight-lifting machines and progressed them in a very systematic way throughout the trial. They felt that they were really achieving something that's atypical within their peers and they received a lot of positive affirmation from their families because of it. They got comments like, 'Now I'm the cool granny.'"
Seniors who are unable to participate in other types of exercise can also reap the benefits of weight training. Some women in the study couldn't walk much more than a block, but still benefitted from the weight-training.
The idea for this study came out of Liu-Ambrose's PhD research (which was also funded by Vancouver Foundation donors).
Previous studies had looked at aerobics and cognitive function, and ran for shorter periods of time. Other studies showed that cognitive impairment was related to falls, but there was a gap: not much research had been done on how to improve cognitive functions so people don't fall in the first place.
Thanks to the grant from Vancouver Foundation, Liu-Ambrose was able to conduct the study she envisioned: one that ran for a year, and with a large enough sample size to be taken seriously.
"No one ever forgets the first grant they get as a faculty member and it really provided that sense of security that I had something to work with," she says.
They also captured the subjective experience of the participants with a complementary study conducted by Joanie Sims-Gould at the UBC School of Social Work and Family Studies, which was published in Qualitative Research in Sport and Exercise. She asked the participants to take photos that express how they are feeling, and captured their reflections on the benefits of exercise with video interviews.
Sixty-seven-year-old Sharron Williams says the favourite picture she took was of a statue at Kits Point. "It was a man walking and it was a good day and he was very upright in his stance. He looked healthy. That was how the exercise class made me feel."
The exercise program was very powerful, she says. "Just because you are 65 doesn't mean you have to stop exercising. If you commit yourself and are willing to work, you can easily become a lot fitter than you think you could be at 65."
As for Mar, she still doesn't like weight training. But when the study ended last year and the women were offered a chance to continue weight training at the YMCA on 49th and Cambie, she signed up.
"Once I got used to it, I thought, 'Why don't I just keep it up?'" she says. It wasn't just because of her improved strength. It was "just an overall feeling –  I didn't feel as tired. I noticed it in my clothes. My clothes did not feel quite as tight as they normally did, which was a good sign for me. I thought if I can keep this up, it would really help."
To support Health and Medical/Education Research in BC, visit our Donation page, or to apply for a grant visit our Health and Medical/Education Research grants page.