You are here
Ramped up and all decked out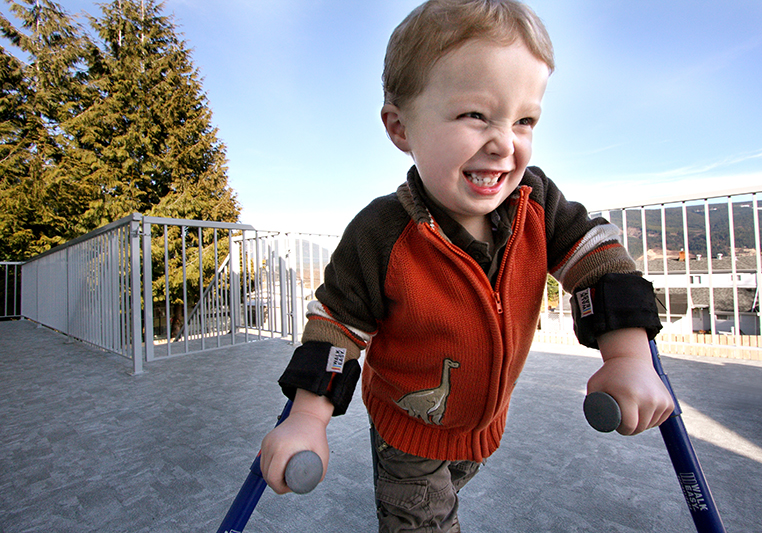 Playing on his family's rotten, splintery deck was a problem for Matteus  Preusse, who has spina bifida, and a nightmare for his mother, Celia. His lower  legs are paralyzed, and in those areas, he can't feel his skin – but that didn't stop the enthusiastic little guy from wanting to play outside like his older  sister.
"He was two years old then, and he just loved being out on the deck. But his walker would get stuck because it was uneven," says Celia. "And when he crawled on it, because he can't feel his knees and his feet, he'd get all these splinters and cuts. Then, because of his nerve damage, those cuts would take forever to heal. But because he couldn't feel how he had hurt himself, telling him not to go out there didn't make any sense to him."
So the family had to be on perpetual alert – which didn't always work either. "Sometimes his sister would forget and leave the door open and out he'd go. And then I'd end up having to gouge out all these horrible splinters," says Celia.
The stairs to the house, located in Sechelt, were even more of a worry. "When Matteus first learned to walk he was using a walker with four wheels. If he ever got out that door, it could have been so dangerous for him. And we had to carry him up and down," she says. "It was awful, having so much frustration and inaccessibility right in our own home."
A grant from the Giving in Action Society enabled the Preusse family to replace the stairs with a ramp, and connect it to an upgraded deck, which they refinished with a smooth surface.
Vancouver Foundation established Giving in Action in 2006, when the provincial government contributed a total of $40 million to the society – $30 million to the Family Independence Fund (FIF) and $10 million to the Children and Youth with Special Needs Fund (CYSN).
The Province asked Vancouver Foundation to manage the granting associated with supporting B.C. families who have a member with a disability, to allow that family member to live at home. The grants are for projects such as home renovations, and modifications or purchases of wheelchair-accessible vehicles.
It's a unique model of working with government for effective giving. Vancouver
Foundation provides infrastructure and grantmaking expertise to distribute the money where it's needed most. Although both the FIF and CYSN funds are expected to be finished in 2010, Vancouver Foundation is hopeful the funding, and the partnership, will be renewed.
Since 2006, the Foundation, through Giving in Action's two funds, has provided
$15 million to children and youth in B.C. More than 200 children and their families throughout the province have received grants. The program has funded 110 home renovations, 135 vehicles and 10 projects related to safety.
The Preusse family's grant, and the subsequent deck renovation, have made an enormous difference in their life.
"Matteus just loves it, and there's no issue with him being out there," says Celia. "Wanting to get outside was a huge motivator for him in learning how to walk, and it was so great that we could just let him go. There are all these normal things we can do now which we just couldn't do before. Now we can leave the door open on a sunny day, and he can play outside with his sister.… We can eat our meals out there. It seems like such a simple thing, but it has made such a difference. And we could never have afforded it on our own.
"Life would be so incredibly frustrating, for him and for us, if we hadn't got the help from Giving in Action. The great thing is, because he's so young, he's not going to know a time when his home was less accessible for him.
He's just going to take all this accessibility for granted. And really, that's how it should be."
Check out YouTube for videos of Matteus and his family at  www.youtube.com/watch?v=39VfJd8lBaA
For more information on Giving in Action, visit: www.givinginaction.ca