You are here
Sasha's voice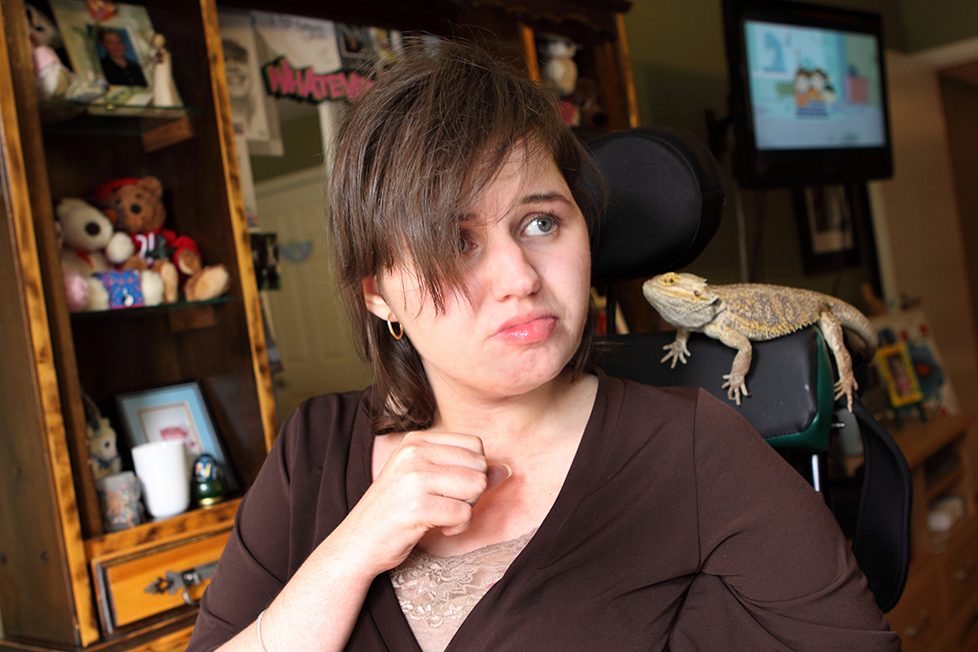 Sasha Cumby's mom, Debbie, says her daughter was a typical 16-year-old. But answering what made Sasha typical, her mom describes a young woman who was anything but an average teen: a straight 'A' student and advocate for animal rights, with career aspirations of becoming an environmental lawyer. A Girl Guide in Sparks, Brownies, and Pathfinders. A young woman who was both a deeply committed volunteer and a social activist, she had organized the collection of more than 400 teddy bears to send to children in Afghanistan. On top of her academic and community accomplishments, Sasha held a part-time job at Tim Hortons and babysat, not just her younger brother William (whom she called "her little brat"), but neighbours' kids as well. People who know the six-foot-tall Sasha say she has an old soul.
In August 2009, Debbie and husband Bill took their kids on their very first family vacation: a trip to Disneyland, the San Diego Zoo and Universal Studios. Three days into their trip, sitting beside her boyfriend on the Indiana Jones rollercoaster, Sasha went into cardiac arrest and stopped breathing. Strapped into the moving ride it was impossible to get Sasha out to perform CPR. First the family, then everyone else on the ride, were screaming to have it stopped. But it was several minutes before Sasha's father could kick open her car and pull her out. By then, the devastating damage to Sasha's brain had already been done.
What the Cumby family didn't know was that both Sasha and her younger brother, William, have a genetic condition called Long QT Syndrome, which is a disorder of the heart's electrical activity.
Sasha's brain injury left her fully dependent on others. She is wheelchair-bound, fed through a gastric tube in her stomach, cannot speak and only has the use of one of her hands. In the Cumby family's home, a three-storey townhouse in Victoria with four flights of stairs, it was impossible to accommodate Sasha's needs.
"Once Sasha was ready to leave the hospital, almost everyone told me we had to move her to a facility. I said I would rather go bankrupt than have my daughter live anywhere than with us. But the truth is that were it not for the Giving in Action society, we never could have been able to renovate our home to make it accessible for Sasha. She would be in an institution – and I'd be right there with her!" says Debbie.
Giving in Action is an organization established by Vancouver Foundation and the provincial government in 2006. It helps people living with disabilities and their families by providing grants for home renovations – such as lifts, elevators, ramps, and door widening – and to purchase wheelchair-accessible vehicles.
Debbie deeply believes that Sasha's improvements to-date – she can now shake her head "no" and sometimes nod her head to say "yes" – and the ones Debbie expects to see in future, are because Sasha is with her family. She's included in all family meals, starting with breakfast. William eats in her room every morning before heading to school. Mom spends all day with Sasha, taking her to physiotherapy and occupational therapy appointments and helping with home schooling. And when dad, Bill, gets home from work on the military base, his first priority is to hang out with his daughter.
Another encouraging sign of her improvement according to Debbie is that Sasha has resumed one old habit in her playful relationship with her dad – rolling her eyes at his bad jokes and silly comments. Although she can no longer say "whatever," Debbie can see Sasha's old personality in her smirk and other facial expressions, which are improving all the time.
Debbie admits that when she thinks about the donation they received from Giving in Action, she gets emotional. "It's only due to that charity that we can have Sasha at home with us. The best place for her is here with her family loving her – especially in her situation because only she can get her brain to make new pathways. If she was living anywhere else, she wouldn't have the same encouragement to work as hard as she has to, to make herself better."
Although Debbie understands that Sasha will never be the same young woman she was before her heart attack, she knows that the old Sasha is still behind her daughter's eyes.
"Since she was little she's been an advocate for animals and less advantaged people. As her mother, I've always been Sasha's advocate, and now I'm her voice, as well. I believe if she could speak now, Sasha would say something that she's said many times before: 'A book has many pages, as do our lives. So don't judge the cover until you read the life behind the book.'" VF
For more information about Giving In Action, go to www.givinginaction.ca or call toll free 1-866-523-3157