You are here
Sassy gets a new roof
Turtle Valley Donkey Refuge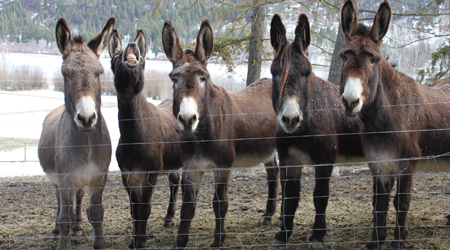 The Turtle Valley Donkey Refuge Society provides a safe home for rescued, abused and unwanted donkeys in British Columbia. Located near Salmon Arm in BC's interior, the facility is home to 24 donkeys.
One of these donkeys is "Sassy" (both by name and temperament). A 12-year-old Mammoth Donkey, Sassy arrived at Turtle Valley with five other donkeys in August 2010. Their owner was very sick and not able to look after them. As a result, all the donkeys had many health issues upon arrival. They were infested with worms, had teeth and hoof problems. Sassy also had a swollen thyroid from lack of minerals in her diet. But after a year of care, they are now all in good health.
"Sassy's quite a character," says Shirley Mainprize, who runs the Donkey Refuge with her husband Harold. "She is now a very happy and healthy donkey enjoying her home at the Refuge."
Donkeys have recently become popular as pets or work animals (partly due to the movie Shrek). Typically, they live for 50 years, in warm climates. However, BC's temperate climate causes health problems for donkeys and can lead to abandonment.
That's where Turtle Valley comes in. Shirley and Harold provide a safe and permanent home for these abandoned animals. But as the numbers increase, they have to adapt.
The latest project (for which Vancouver Foundation provided a grant of $13,000) is to add a covered overhang roof to one of the society's barns. This small improvement will provide a weather-protected area for the resident donkeys and increase their comfort during bad weather. The project also includes a water system to allow the donkeys to have clean water on demand.
"We feel blessed to be able to do this work," says Shirley. It's a true labour of love."
Learn more about how you can support our Animal Welfare program or apply for a grant here.