You are here
Save the Sob Story
Vancouver Foundation's Youth Advisory Circle conceives a new ending to an "age out" tale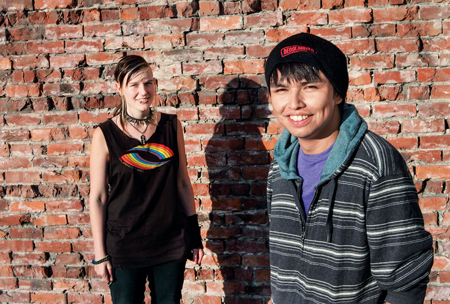 You may have seen the picture or read the story: homeless youth from foster care, huddled in a needle-strewn alley, dirty and helpless. Youth in foster care have seen it – often. And it's this damaging "foster-care porn" that they want off the table. Stories and images have the power to either reinforce or break down stereotypes, which can shape how groups of people are perceived and stigmatized. Members of Vancouver Foundation's Youth Homelessness Initiative Youth Advisory Circle (YAC) are trying to take charge of the stories to help their lives and concerns be better understood by the general public.
Kris Archie, project manager of YAC, has worked with members to lay down these ground rules immediately when speaking with the media. There's no asking of personal questions unless invited to do so – basic manners, but ones traditional media sometimes neglect when speaking to youth formerly in foster care.
But it's not only about the image projected to the public; this code of conduct applies equally to YAC discussions among youth who have all experienced foster care and/or homelessness. It's one difference Shawnee Gaffney, 20, appreciates about YAC.
"[Kris Archie] didn't push us to share our personal stories. She actually promoted not talking about them until we got to know each other a little more." Instead, explains Gaffney, "she asked us what we've got coming up that we're excited about. She totally avoids the past unless you're willing to share."
The philosophy makes sense considering one of YAC's interests: to create a new narrative about youth homelessness and foster care – one that honours lived experience, but examines weaknesses in the system, not in individuals. Each year, around 700 youth "age out" of the foster care system – that is, they turn 19 and stop qualifying for government assistance. Lacking stable jobs and without a place to go, "almost half go on income assistance within a few months" and many end up homeless. In fact, "40 per cent of homeless youth have been in government care," according to a 2013 Vancouver Foundation report on youth homelessness.
YAC meets twice a month for four hours of discussion, planning and dinner. "It's a very diverse group," says Kali Sedgemore, 22. "We're all coming out of care, or are in care. It's a really nice community of people. I've created a few friendships out of it."
A typical session begins with a check-in, when each participant shares some news of his or her week. Next, they look at the agenda and talk about upcoming events – perhaps a task force meeting, interviews with media, media training or grant allocations. "The biggest thing we do in YAC," says Sedgemore, "is create presentations to bring to bigger meetings to show the work that has been done to change policies around foster care and transitioning out of foster care."
Archie adds, "They've participated in the Mayor's Task Force on Mental Health and Addictions and provided recommendations on engaging youth in service programming and development. They've been talking to local and regional service providers, elected politicians, and staff with the Ministry of Children and Family Development and the health authority about developing a 'collective impact' strategy for Vancouver on youth transitions from foster care. They will be presenting to Vancouver Foundation staff and our existing grantees about their Chicago experience."
That Chicago experience was the National Summit on Authentic Youth Engagement this past August, where Sedgemore, Gaffney and Archie spoke about YAC's efforts to promote a new narrative about foster care and homeless youth. Vancouver Foundation granting has supported the development of video, art, poetry and interactive websites to tell new stories of hope and empowerment.
Articles that resort to "foster-care porn" – sad, shocking stories of neglect, abuse and/or addiction – may seem sympathetic and useful for eliciting donations, explains Archie. But these stories are not the only truth, and their dark weight can both overshadow an individual's upward climb and draw attention away from an even larger truth – a breakdown of the system. They shape how potential landlords, employers, classmates and neighbours see them even before they know them.
One of the most important lessons from their experience in YAC, say the youth, has been realizing that the difficulties they experienced are evidence of a broken system, not a flawed character.
Sedgemore recalls the hopelessness he felt upon aging out on Vancouver Island. "You get a letter in the mail saying you're getting taken off your Youth Agreement. Basically you're not getting any more money," he explains. "I had no prep, had to pack up my place in three weeks and got a bus ticket back home to Alert Bay."
Gaffney was one of only six Surrey youth accepted into a nongovernment rent subsidy program through Options Youth Services when she turned 19. That helped, but emotional support from the Ministry of Child and Family Development disappeared abruptly. "It was kind of sad. When I aged out, they got me to sign the papers. [The receptionist] came out and gave me a big hug for 10 minutes because I'd been around her for so long. But the social worker was too busy to come out of her office. She didn't even say goodbye."
Finding themselves suddenly in a support vacuum, many former foster kids gravitate to "groups," which may teach life skills and can also provide street-connected youth with a sense of belonging as well as adult guidance. Sedgemore volunteers with a cooking group, and blogs for Directions Youth Services Centre, an organization that works with street-connected youth. Gaffney has been speaking at several LGBTQ groups since she was 15. She currently works with Youth For A Change, an advocacy group for LGBTQ youth in Surrey.
Sedgemore and Gaffney's involvement with these actionoriented groups led each separately to Archie, who was known to be actively recruiting youth and wanted to talk about making the transition process better.
"They were talking about youth homelessness," Sedgemore says of the reason he signed up with YAC. "I wasn't angry. It was more of a passion for voicing my opinions about transitioning out of care. About how a lot of times homelessness is linked. I thought I had vital input about it."
After attending a few meetings, Sedgemore found he also relished conducting and reviewing research. He found that citing evidence can be more effective in swaying public opinion than recounting traumatic parts of his own story.
"Research is really important when you're giving presentations. It shows that the system doesn't work and the gaps when you're transitioning out of care. You need evidence when you're presenting to the public."
A self-described data geek and lover of new words, Sedgemore explains how YAC has affected him personally. "YAC has really built up my confidence in who I am. It's built up my people skills and even the way I talk." Improved communication skills helped Sedgemore land a co-researcher position with the McCreary Centre Society. "It's based on the [McCreary-conducted] Homeless and Street Involved Youth Survey. I'm really excited about that."
Gaffney joined YAC because she believes in the power of group activism to drive change. "I got into public speaking [on LGBTQ issues] because I wanted to see change. And YAC is for change as well. I don't think I'd be able to do speeches otherwise."
Gaffney plans to continue to accrue more volunteer hours working with youth to meet prerequisites for a college program. "I want to be some sort of outreach worker for LGBTQ youth that are homeless."  Her experiences and discussions as a member of YAC have inspired an even stronger drive for activism than she had before. She has seen firsthand how new positive narratives allow youth to bond more comfortably with one another and form partnerships with adult allies. And she wants to tell more of these truths.
| | |
| --- | --- |
| Story By: Wendy Goldsmith  | Photos By:  Tiffany Cooper |
Read more stories from the Fall 2014 Vancouver Foundation magazine, Building an Empowered & Vibrant Future.