You are here
School of Independence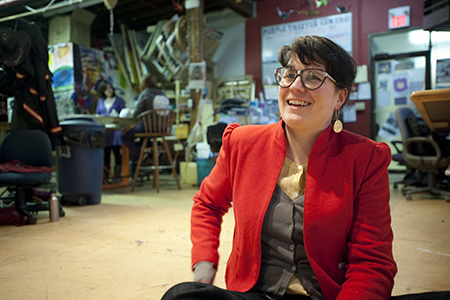 "The instant I heard about the Thistle, I knew it was for me," says the mischievous-looking woman with the dark curls.
In fact, Leni Goggins wanted to be involved so badly that she moved from Vermont to Vancouver. "I tried out New York, but I thought, no, I really want to be part of the Thistle," Goggins laughs.
Started in 2001, the Purple Thistle is a youth-run arts and activism centre that facilitates self-directed learning, providing an alternative for youth who weren't thriving in the traditional school system. Goggins, as she puts it, "just showed up" on the Thistle doorstep one day in 2002. In short order, Goggins was part of the centre's writing group. Then she started running the writing group, and later, she started pro­ducing 'zines.
"Then someone said, 'Why don't you apply for funding to start your own magazine?" Goggins says. "So I did." Today she's the editor of Lester's Army,a magazine that explores the relationships between youth and seniors in Vancouver and attempts to help the two groups discover common ground.
"I have a career that I love, that I created for myself. That's what the Thistle does: it gives people the skills to be self-directed," says Goggins, who's not only self-directed, she's also remarkably capable and self-pos­sessed. Now busy with her magazine and other projects, Goggins spends most of her time in her office in the Woodward's building, but the Purple Thistle continues to provide a space for people (primarily youth from 15 to 30, although everyone is welcome) to pursue learning their own way.
Located in a building full of artist studios a few blocks from Vancouver's Commercial Drive ,the space brims with creativity. Frank Zappa music is playing, while a teenager improvises on a guitar. The guerrilla gardening group is arriving ,hauling bikes upstairs and stripping off wet clothing.
Above their heads, bright yellow tissue flowers dangle from branches and bold origami cranes hang from the high ceilings. A dressmaker's dummy sits idle near sewing machines. There are computers for Internet access and filmmaking projects. Delicate gypsy pepper seedlings sprout in trays in a makeshift mini-greenhouse. Monstrous screen-printing and ancient animation machinery hulk in corners, while a door leads to a fully equipped darkroom.
High up on one wall, a massive whiteboard out­lines the free classes (from silk-screening and yoga to animation and guerrilla gardening). The whiteboard also lists drop-in hours, when people are welcome to use the free art supplies or just hang out. Prominent on the whiteboard is the Thistle's weekly collective meet­ing, which is open to everyone. Coordinators say a few hundred people use the Purple Thistle every week.
Vancouver Foundation has helped to support the Purple Thistle almost since its inception. As a "gradu­ate" of the Thistle's innovative avenue for independent learning, Goggins has no doubt about the value of her experience there.
"I've met a lot of people who have graduated from university, and who seem kind of lost. They seem to be looking to be directed from outside themselves to figure out what to do next," says Goggins. "I'm not in that position. If I had gone to school to study for four years, I'd have a lot of training, but no magazine. I would now be climbing the corporate ladder, trying to become an editor. But by doing my own thing, I have ended up with very little formal education, but I've been able to put myself at the top of my own ladder. And I have four issues of quite a unique magazine under my belt," says Goggins. "I've been able to do something that no one has done before."
Goggins credits much of her success to her time at the Thistle. "I've seen a lot of similar situations–people who spent time at the Thistle who have moved on to working on their particular art form. The skills the Thistle helps people develop–being able to directly our own life and your own learning –I think those are just invaluable. They've totally been invaluable for me," Goggins says, flashing her confident (and irresistibly impish) grin.
For more information on the Purple Thistle, visit www.purplethistle.ca. For more info on Lester's Army, visit http://lestersarmy.com