You are here
Secret Caregivers
Cowichan Family Caregivers Support Society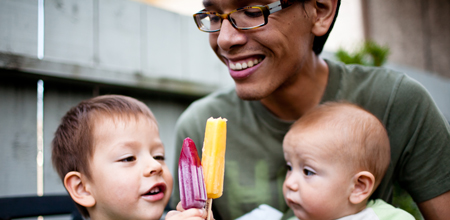 A 13-year-old cooks all the meals for her three siblings because her alcoholic parents are often incapable of caring for their children ...
A 12-year-old does her best to take care of her mentally ill mother ...
A 16-year-old feeds and bathes his ailing grandfather ...
This is the secret world of youth caregivers, a world in which home becomes a prison. There is a nearly invisible population of children and adolescents in B.C. — estimated at about 12 per cent — fulfilling a caregiving role in their families.
Often, it's because of a parent's addiction, mental illness or desertion, although not always.
Kai Bighorn was 16 when his father started to get sick. He remembers his dad sleeping at the dining room table with a pillow, unable to lie down because of congestive heart failure. By the time Bighorn was 19, his father's kidneys had failed.
Bighorn had to quit his job, walk away from his social life, and give up his dream of college. He became a full-time caregiver for his father, with responsibilities far beyond his years.
"I was trained in the basics of how to hook up the dialysis, and how to go manual in case of an emergency," says Bighorn.
Beyond that, he was pretty much left on his own.
"These young people are invisible," says Grant Charles in the School of Social Work at UBC.
"There is absolutely no support for them." Children are scared to talk about what's happening at home. They are ashamed that their family isn't like other families. They are afraid that the family will be split up if social services finds out. Anger, depression, drugs, acting out, doing poorly at school — children react in very different ways.
"They grow up too soon and not very well," says Charles. "Many are socially delayed, and they struggle later in life with depression and trust issues."
That's why Vancouver Foundation helped fund a project aimed at helping youth caregivers in Duncan, B.C.
It's only the third such program in the country. It has a core group of about 12 to 15 young people, including Kai Bighorn, who are supported by a resource team.
They meet every Wednesday under the guidance of Dan Vaillancourt, the project coordinator. The youth range from 12-years-old to their mid-20s, and come from very different social, economic and ethnic backgrounds.
One of the group's goals is to show the youth that they are not alone, says Vaillancourt.
"It's quite beautiful to hear them share their stories, like how hard it is to look after a sister with a disability, how people look at you differently, and how much that hurts."
The support group usually starts with personal stories about how things are going, and then focuses on a theme, such as how to handle stress, or the particular challenges of caregiving at a holiday time, such as Christmas.
Vaillancourt talks about a young woman who has been looking after her disabled mother since she was 16. When she joined the group, she wore a bicycle helmet, an overcoat and heavy clothes, like she was armoured.
She gradually began to shed that outerwear, slowly revealing herself as she grew comfortable in the safe place provided by the group.
"She never misses a meeting," says Vaillancourt. "One day, she said, 'Guys. I have to say something to you. You are my family.' It was so touching."
"This group has been phenomenal," says Bighorn. "The kids stop thinking what's happening to them is socially taboo. I just wish I'd had the group sooner."
The group speaks at schools to reach out to youth caregivers, who often feel like they are the only ones in this situation. There is also resource material for teachers to help them ask questions, like why a child is coming to a parent-teacher interview accompanied by another child.
The youth made a film about their experiences called Ending the Silence. It's available online and they use it to raise awareness about the negative and sometimes positive impacts of being a youth caregiver.
"It isn't all bad," says Grant Charles. "Taking care of a parent dying of cancer is very different than caring for an alcoholic parent."
Bighorn has fond memories of caring for his father, who died in 2008.
"I had a close and wonderful relationship with my dad. I do often wonder what I missed during those years, but I'm glad I had that special time with him."
Still, he remembers feeling trapped in the house, not knowing how to relieve the stress, and not having anyone to talk to.
"Being alone in my room was very important to me," says Bighorn. "It was the only room in the house that I felt I could have some control over; it was my place of refuge, a place of security."
Grant Charles says that retreat into silence and isolation is a common experience. "Youth caregivers often feel different, not only because of the responsibility they have taken on, but also because they are socially isolated from their peers."
Right now, Bighorn has taken on another caregiver role, looking after his two young nephews, but his goal is to go to college, study social work, and help other youth caregivers, especially First Nations youth.
"It's not fair for these kids to have to sacrifice their youth, their freedom and opportunities. I want to help them, and help end
the silence."
For more information on this project and others funded by Vancouver Foundation donors, see www.vancouverfoundation.ca