You are here
Speaking up for youth
Youth Philanthropy Council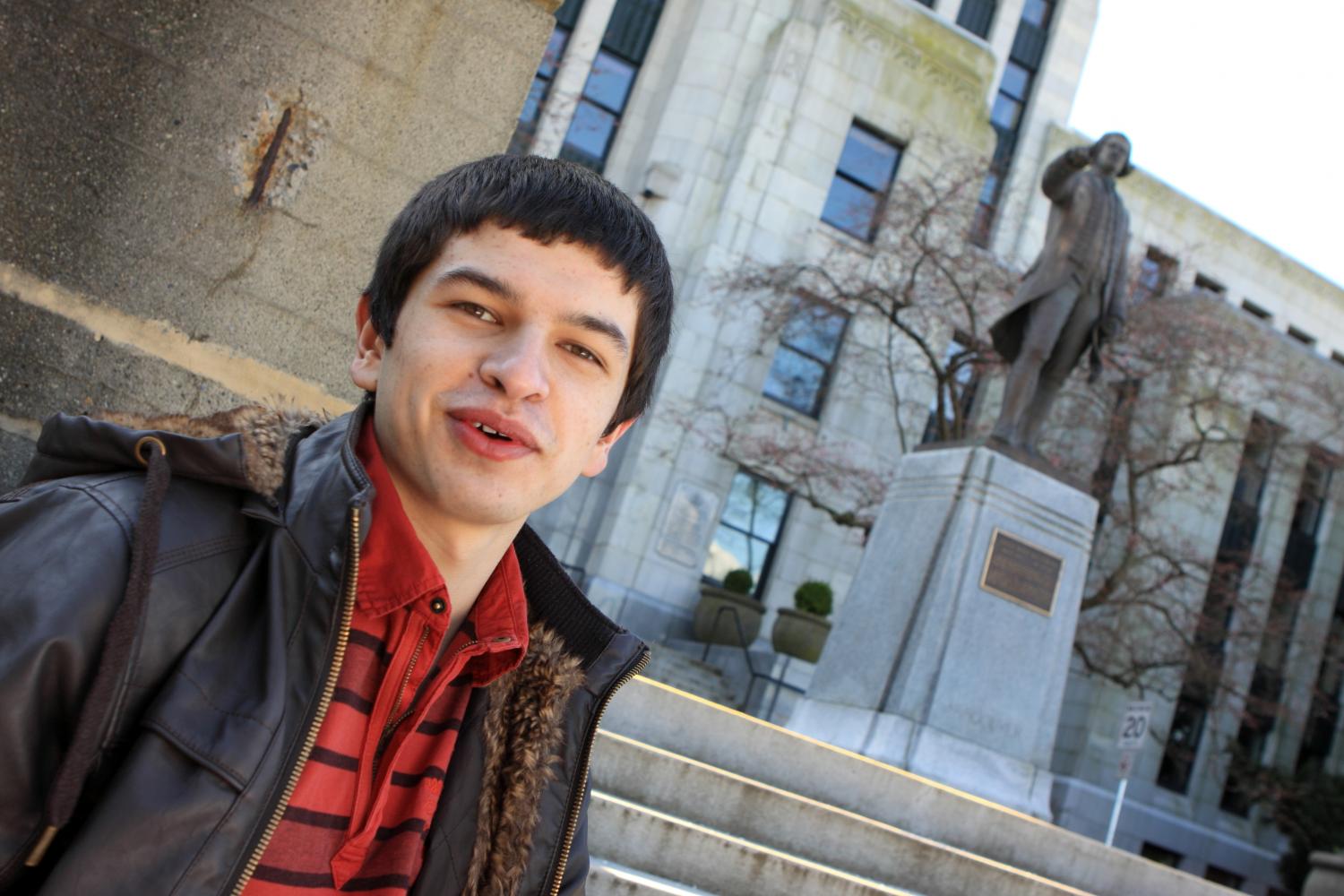 When Diego Cardona was four, his father went to a meeting... and never came back.
The meeting was with members of a Colombian insurgent group to discuss a parcel of family land the insurgents had appropriated. His father is presumed to have been murdered.
Cardona's remaining family moved to another part of Colombia, but death threats followed them until they finally left the country altogether. The extended family applied to immigrate to Canada, but only Diego, his younger sister and his mother were accepted.
That was more than seven years ago. Diego Cardona is now 16, with bright brown eyes and a charming wide grin. He looks like a typical Canadian teenager in his T-shirt and blue jeans. But he relates the horrifying events that are part of his personal history matter-of-factly, with less drama than many other teens might describe a trip to the mall.
Murder, violence and intimidation were indeed facts of life for Colombians – particularly those who, like Cardona's family, dared to be politically active. But it hasn't made young Diego callous or inured to injustice. Nor is he cynical about politics. Given how much his family's political involvement has cost him personally, it would be understandable if Cardona wanted to avoid politics altogether. Instead, he actually has his sights set on a political career, encouraged – at least in part – by his positive experiences with Vancouver Foundation's Youth Philanthropy Council (YPC).
"When we came to Canada," he explains, "we started out in Toronto, then we moved to Montreal, then Vancouver. My mom got cancer, and the rest of our family was back in Colombia. It wasn't easy at first. But later on, I got involved in a great program for immigrant and refugee youth – funded by Vancouver Foundation, actually. Then through that, I got involved in YPC. And YPC gave me tons of connections to people who make things happen."
The YPC consists of volunteer youth who, with adult allies, decide on the allocation of grants for many of Vancouver Foundation's youth-focused projects.
"YPC is what I call meaningful youth engagement. Youth decide what will work for youth. Our judgment is respected, and the projects we've funded have been very successful. It's empowering." Cardona's sense of personal empowerment received another boost recently after serving on the advisory committee for a youth summit organized by Vancouver Foundation and the office of the provincial government's Representative for Children and Youth, Mary Ellen Turpel-Lafond.
"Seven thousand new immigrant and refugee youth enter B.C.'s school system each year," says Cardona. "But how often does our government hear what is and isn't working from their perspective?" Organizing the summit was challenging. "We only had three hours a week over three months to set up a two-day summit," says Cardona. "Together, we determined the issues we wanted to address: education and the ESL system, community services, LGBTQ issues and women's issues (because most immigrant and refugee families are headed by single moms). We picked the speakers, and we made sure we had at least one youth speaker on each panel. We also invited key bureaucrats from ministries like the Ministry of Education."
Cardona is an astoundingly articulate young man, especially considering he only started learning English at the age of nine. But when he talks about the summit itself, the smile that lights up his face and his buoyant body language are as eloquent as his words.
"I heard youth speak and I got to speak. I felt so powerful," he beams. "The people in government who were there didn't know how the system is working, or how it isn't working. They were shocked by what they heard. Mary Ellen said 'Let's do something about it right now.' That felt really great."
Turpel-Lafond was so moved by her experience at the summit that she organized a Youth Advisory Day at the B.C. Legislature. One month after the summit, Cardona and another summit advi- sory committee member made a presentation to the Select Standing Committee on Children and Youth. Two weeks after that, he and five other youth members made a presentation to high- level government officials, including George Abbott, B.C.'s minister of education.
"The officials liked all our recommendations, but they said, 'There's one recommendation we can take action on right away.' So they changed "English as a Second Language" to "English Language Learner." For many immigrants and refugees, English is not our second language. Sometimes it is our third, or fourth. So that name was not very accurate. That recommendation has been around for a while. But it felt amazing that we were the delegation that actually got the name changed," says Cardona.
Turpel-Lafond has also committed to working with the Youth Advisory Committee to set up one-day regional conferences across B.C. to get more input from youth. "We're also working on getting to Ottawa, because we'd like to see some reforms of the immigration system," he explains.
Getting to Ottawa is also part of Cardona's long-term plans in a different sense. "I'm getting more and more into advocacy," he says. "A big part of what I do is immigrant and refugee stuff, but I have a lot of opinions about other things, too. Mainly because of YPC and Vancouver Foundation, I've been exposed to a lot. And in 10 years, I do see myself trying to get into the B.C. Legislature or onto Parliament Hill.
"There's this quote I love that says, 'The way to understand people is not by doing research about them, it's by listening to them.' Listening is huge. A lot of people in power talk, but they forget to listen. I want to be the kind of politician who listens."
From child refugee fleeing violence to community organizer and passionate proto-politician in only seven years, Diego Cardona's life has already had an incredible arc. His "adult allies" at Vancouver Foundation are honoured to have played a role in nurturing his abilities via the Youth Philanthropy Council, and we all look forward to seeing where his spirit and skills take him next.
To find out more about Vancouver Foundation's Youth Philanthropy Council, see www.vfypc.ca