You are here
Stages of Life
African Stages Association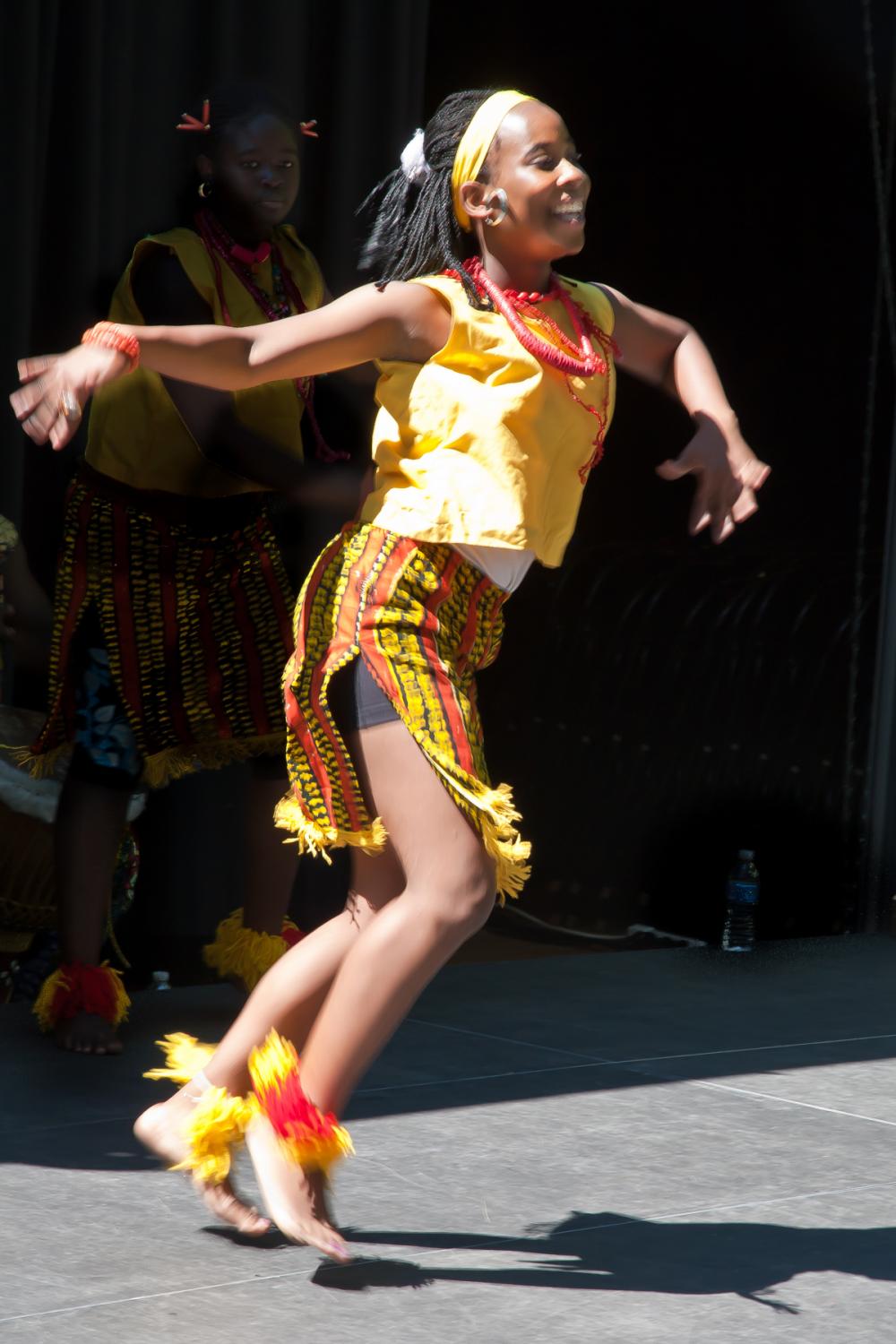 She was an easy target.
Gentle and wide-eyed, Cheryl Bosola Olamijulo was the new girl in class—and the only black kid in her entire Surrey, BC high school.
Her family had emigrated from Nigeria in 2009 looking for a better life, but it wasn't working out better for Cheryl. "I was always very shy, and I came here and I was looked down upon for my voice, my race, my culture," says Cheryl, a soft-spoken, beautiful young woman with shoulder-length braids.
"In school there were a lot of Indians and white kids, and they had their own cliques, and I felt like I was a nobody. I just took all the insults, and I looked down on myself too. As I was bullied more and more I became very sad," she explains.
Luckily, Cheryl found out about the African Stages storytelling group, funded by Vancouver Foundation.
Led by a coordinator, the group of youth 12-19 years old with African backgrounds met Fridays after school. The process started by telling each other about their experiences in Canada. Some of the kids had been followed around a store and wrongly accused of shoplifting. Some had been taunted for their food, their hair and their accents. Some had teachers who couldn't be bothered to learn to pronounce their names properly, and one teacher had told an aspiring young doctor that he should consider a career in football instead.
"I found out that other people were going through what I was going through," says Cheryl. "And that made it easier for me to open up. I could be myself around the group. And as I started to tell my story, I could see for myself how to solve my problems. I realized I had been wasting all this time feeling sorry for myself. It was great therapy for me."
Once the kids had shared their stories and developed a sense of trust and camaraderie, the youth started shaping some of the stories into theatre and dance presentations.
"Sometimes we would act it out, and sometimes we would end up laughing at some of the situations. Or we would dance it out. Dancing always makes me feel better," Cheryl explains.
Ultimately, the stories were performed in a forum setting, where the audience could intervene in the drama. Being onstage built the performers' confidence, while the interactive setting facilitated collective problem-solving and built an even larger sense of a larger community for the kids.
"It really boosted my belief in myself. When I went back to school, I joined the theatre group. I wasn't shy about being myself anymore. I was so much more confident. People couldn't believe how much I had changed!" Cheryl says with a proud smile.
"Now, when kids try to insult me, I don't take it seriously anymore. If I'm feeling bad, I can just go to the bathroom and dance it out."
The African Stages storytelling group is the brainchild of Comfort Ero, a teacher and storyteller originally from Nigeria.
"In Africa," Comfort says, "Storytelling is a part of life. Everyone tells stories." But even in her storytelling culture, Comfort stood out. She had a special storytelling knack, combining a natural theatrical flair with an aura of relaxed warmth that puts people at ease (as befits her name.)
After she moved to Canada, Comfort found people were always asking her questions about her culture. So Comfort began using storytelling as a way to educate Canadians about Africa. That gradually evolved into using storytelling to address issues such as HIV AIDS, bullying and racism, and now the storytelling group for immigrant kids.
"It empowers them a lot," says Comfort. "We know they find it valuable because they come every week and they tell other kids about it. We were originally supposed to work with ten kids, but at one point we had 40 in the group, and about 30 made it all the way through the program. It would be really good to run the program again. There are so many kids who need it."
Cheryl agrees wholeheartedly. "All the kids that went through the program are happier, more confident. Now I know I can face my problems, and I'm a stronger person for it. The storytelling group really did change my life."
For more information on African Stages, see www.africanstages.com  (photos by Alan Beaton).