You are here
TTIP-ing the Scales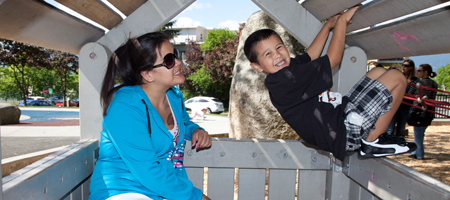 One of Alexandra O'Donaghey's first memories is of her drug-addicted and alcoholic parents splitting up. She was only four, but already smart enough to know she would be staying with her grandmother.
Not long after the split, her father gave up drugs and drink. But the party went on for her mother for another eight years. She drifted in and out of O'Donaghey's life in North Vancouver. Then came an invitation to join her clean and sober mother for a year in Bella Bella – home of the Heiltsuk people on BC's central coast.
O'Donaghey jumped at the chance. Turns out her mother had been clean for almost two years, and O'Donaghey was looking forward to spending time with her. This would be a new start. But less than a year after O'Donaghey arrived, her mother relapsed; the last time she saw her mother was in the emergency room of Bella Bella Hospital, where she passed away. O'Donaghey was 12 years old.
"Things went downhill after that," she says, her dark brown eyes narrowing. "I moved back to North Van to live with my dad, and started drinking. At first, it was coolers, then beer and 'hard bar' . . . It was just fun and games. Then I started smoking pot, doing cocaine and ecstasy.
"I moved a lot in North Van and Vancouver," she says. "I was living with my grandmother, and with my dad. I got kicked out of one school, transferred to another, and then had to transfer again.
"Eventually, it got to the point where I didn't care about having fun or having a good time. I wasn't comfortable in my own skin. I became the type of person that needed a drink. I'd have a drink if I was anxious, if I was mad or sad, or if I felt guilty. My addiction took me to a deep, dark place. I did a lot of things that I regret today."
At 16, O'Donaghey got pregnant and had a son, Sean. At 18, despite a number of interventions by her family, she continued to drink. O'Donaghey tells her story very matter-of-factly, not shying away from any detail. She looks you straight in the eye as she talks, displaying a confidence and self-knowledge that is obviously hard-won, and rare in a 23-year-old.
Despite the fog of alcohol, many alcoholics can recall, often with stunning clarity, the day they hit bottom. For O'Donaghey, it was January 15, 2011.
"It wasn't an external hitting bottom," she says. "Like losing family or anything. It was an internal thing. I'd been drinking for eight years. I was 21. My addiction hit me so hard I lost all hope. I realized then that I would either die from my addiction, or I would turn it around. It was one way or the other."
On January 17, 2011, after eight years of active addiction, O'Donaghey finally reached out and sought treatment through a First Nations recovery program in Williams Lake. Then, back in Vancouver, she heard about Watari Counselling and Support Services and the Transitioning to Independence Project (TTIP). She applied and was accepted into a pilot program with nine other young people who were homeless and pregnant or parenting, and would receive
life-skills training and housing for 18 to 24 months. The pilot wrapped up in March 2013, and you don't need to ask O'Donaghey how it went – her ear-to-ear smile says it all. Watari is Japanese for "small bridge" or "in transition." The first thing you notice about Watari Services is that it's not an easy place to find. The offices, kitchen, meeting rooms and classrooms that comprise this agency are nestled comfortably, and very anonymously, into the 800-block of East Hastings Street in Vancouver.
This part of the Downtown Eastside seems quiet and forgotten. There are no bars on this block. Few dealers venture this far east, and even fewer sex trade workers. It's perfect for people who are trying to leave that frenetic world and its temptations behind, and turn their lives around. It's also perfect for a non-profit agency that offers drug and alcohol treatment programs, one-to-one and group counselling, education, advocacy for troubled youth, and sometimes just a friendly face and a place to sit down.
"We've been here 17 years," says Michelle Fortin, Watari's executive director. "Our choice of this place and this area was very intentional. When people come here for counselling, they don't just stumble upon us. They actually have to be looking for the office. They have to make a conscious decision to find us."
Watari started TTIP to support homeless pregnant or parenting youth with a grant of $330,000 over three years from Vancouver Foundation. "Our role is essentially to help them find market housing and then support them for 18 to 24 months while they try to figure out how they're going to live in market housing without that support."
And the program has been very successful. "Eighty-two per cent of young people who have been through the TTIP program have managed to maintain their housing," Fortin says proudly. "Many of these young people have been in foster care. They're used to moving frequently, often never really unpacking. Many never hang their pictures on the wall. "TTIP is one of our success stories. Thanks to the way it was structured, we were able to leverage the Vancouver Foundation grant into even more support later."
For O'Donaghey, TTIP was transformational. "Once I found a place, it was great," she says. "They gave me a bus pass, taught me how to budget. I participated in one-to-one counselling. I attended workshops, went to a Christmas party. I learned a lot there. Watari helped me to become the person I want to be."
O'Donaghey has been sober for two years. She finished high school, and has a good relationship with her dad, her family, her friends, and – she is keen to point out – herself. She can't wait to get into long-term supportive housing where she can stay with her six year-old son Sean. She has goals: she is going to college and will train to be a youth worker.
"I had a rough life. I hurt a lot of people and I made a lot of mistakes. But they helped me to become a better person . . . I wanted change. Now I do my best to be a good mother, a good friend and a good daughter. And I try to give back to the community as well."
O'Donaghey volunteers in the Downtown Eastside, doing family support, and in West Vancouver as an outreach worker for First Nations people. At 23, O'Donaghey has not lost her hope for the future. She has not lost her belief in change. She just has to look in the mirror to know that almost anything is possible.
---
One of Vancouver Foundation's priorities over the next four years is to break the cycle of youth homelessness among young people aging out of government care. Through our Youth Homelessness Initiative (YHI), we are working to strengthen community services to support vulnerable youth, engage young people to identify transition strategies for individuals aging out of care, and to raise public awareness about the critical need to invest in solutions that help youth leave the streets behind.
Learn more about how you can support this initiative, apply for a grant, or make a donation on our YHI page here.