You are here
A way home
Broadway Youth Resource Centre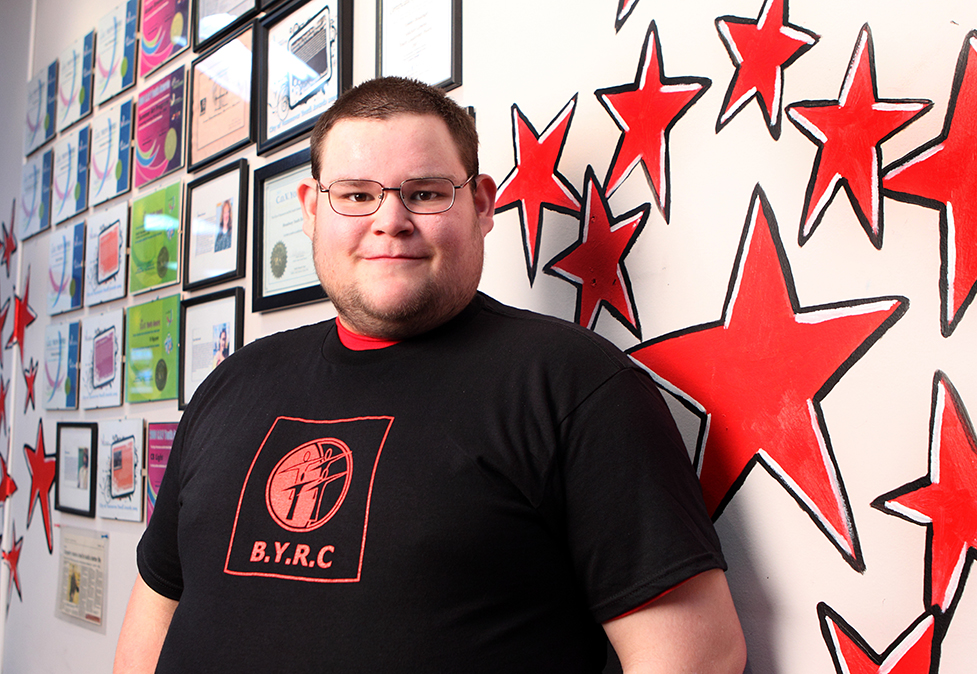 When Yosef Spivak laughs, he makes a sound like warm wind, and his eyes completely disappear behind red, round cheeks. He's a cheerful guy. It's his nature, even though, at 22, he's had a lifetime's worth of hardship.
Spivak first went into foster care when he was seven years old. He's a little vague about the reasons but his family was breaking up and he says he started acting out. He was diagnosed with an attention deficit disorder and prescribed Ritalin, along with other drugs that he says made him even wilder.
"I was a violent child," he says, an image that is hard to reconcile with this young man, happily chatting about his past.
For the next decade, Spivak went back and forth between his mother's home and foster and group homes, and spent time in a minimum security group home for youngsters with violent tendencies.
When his mother would take him back, she would also move him – to Montreal, to Israel, back to Richmond. Then the cycle of foster and group homes would begin again, and the school moves
– too many to count.
It didn't help that he had also been misdiagnosed as a youngster with a rare genetic disorder that included reduced mental ability among its many conditions. It wasn't until he was a teenager that he was finally diagnosed with Asperger's Syndrome, an autism spectrum disorder. "I'm great at math and knots. I'm great at languages. I learned Hebrew and Yiddish in Israel. But I'm not great at spelling. Or grammar."
Spivak says he was relieved to get that diagnosis, even though it only came after two stints in the children's psychiatric ward. "It explained a lot of things. The problem was that I was already branded in the system as something else – a troublemaker with emotional issues."
At 19, Spivak became an adult and that meant he could finally move into his first apartment. "It was horrendous and awful. I was not ready at all. I freaked out the first night. I didn't know what to do."
It's hard to imagine how being in your own apartment could be worse than shuttling between foster and group homes, sleeping on friends' couches or finding temporary beds in safe houses and shelters, but this part of Spivak's story is shared by many other youth at risk of homelessness.
Kristine Kredba, Supervisor of the Youth Transition and Housing Program at the Broadway Youth Resource Centre(BYRC), has seen it many times. "Young people like Yosef who have been bounced around the system most of their lives often have large gaps in learning the basic skills they need," she says. "Like how to shop for groceries, budgeting and paying their bills on time or keeping their home clean. When it's just housing without support, or just support without housing, it almost always fails."
Vancouver Foundation helped the BYRC establish a supported housing program for at-risk and homeless youth. The goal is to secure safe housing for young people, and to provide them with the skills necessary to successfully transition from supported to independent housing. The program targets high-risk youth, specifically those who have experienced challenges finding and maintaining housing. These tend to be young people, like Yosef Spivak, who have lived in government care, "couch surfed," or lived in a safe house or shelter at some point in their lives.
The 2011 Metro Vancouver Homeless Count found 397 unaccompanied young people on the streets.That's the highest number ever found in the region, and it's probably lower than reality as it does not count young people sleeping on a series of couches in a series of basements, and it does not count young people moving in and out of homelessness. Some estimates put the number at 700 or even higher.
These young adults are exposed to significantly more physical abuse, sickness, injury and mental health problems than their peers with stable housing. And they can each cost society anywhere from $55,000 to $135,000 a year in public services like policing, health care, emergency services and jails.
There are many reasons why young people are vulnerable to the risk of homelessness. High housing costs; relatively low wages; lack of education; lack of employment and mental health supports,
particularly for youth who have spent much of their lives in foster care or disconnected and isolated from a stable network of friends and family – all these factors make finding and keeping a home very difficult.
"Homelessness is one of the most isolating experiences a person can endure," says Mark Gifford, director of grants and community initiatives at Vancouver Foundation. "Our region still relies on too many wet blanket, bus stop, train track and couch surfing options for kids trying to grow up and make sense of a world that has been cheap with love and opportunity."
It's the wasted opportunity that Kristine Kredba regrets. "When you're living in fear, all the wonderful opportunities to become exceptional or even just to become a regular contributing member of society . . . well, it just can't happen."
She has seen what can happen when a young person suddenly has a place to live and can start to think about the future. "We have kids who have been in our programs who are in college, in university, who had their own kids returned to them and are good parents. Once they can exhale and stop worrying, they make plans."
Addressing youth homelessness is one of Vancouver Foundation's priorities. In 2012, this will mean more than $1million in grants to community partnerships, public policy, and community leadership strategies that connect young people with housing and support.
"Everyone deserves a first chance, let alone a second one," says Gifford. "For young people, connecting to a safe, accessible and affordable home is a foundation for life – a base camp for climbing new mountains."
Two years ago, Yosef Spivak was teetering on the brink of home- lessness. He was kicked out of an apartment, slept on couches, even spent one night on the streets of Surrey when he got lost looking for a safe house. Then he found the Broadway Youth Resource Centre. "I was looking for a bathroom. Instead, I found a program that saved me."
He is currently living in subsidized housing in one of the BYRC's buildings for youth aged 16 to 24. He gardens, planting and tending roses, tomatoes and herbs. And he's planning his future. He would like to go to culinary school, unless his love for the Broadway Youth Resource Centre wins the battle for his heart. "I would love to be a youth worker here. This place means every- thing to me. I'd be either homeless or dead without it." VF
For more information about our Youth Homelessness Initiative and how you can apply for a grant or make a donation visit our Youth Homelessness page here.