You are here
West Coast Mozart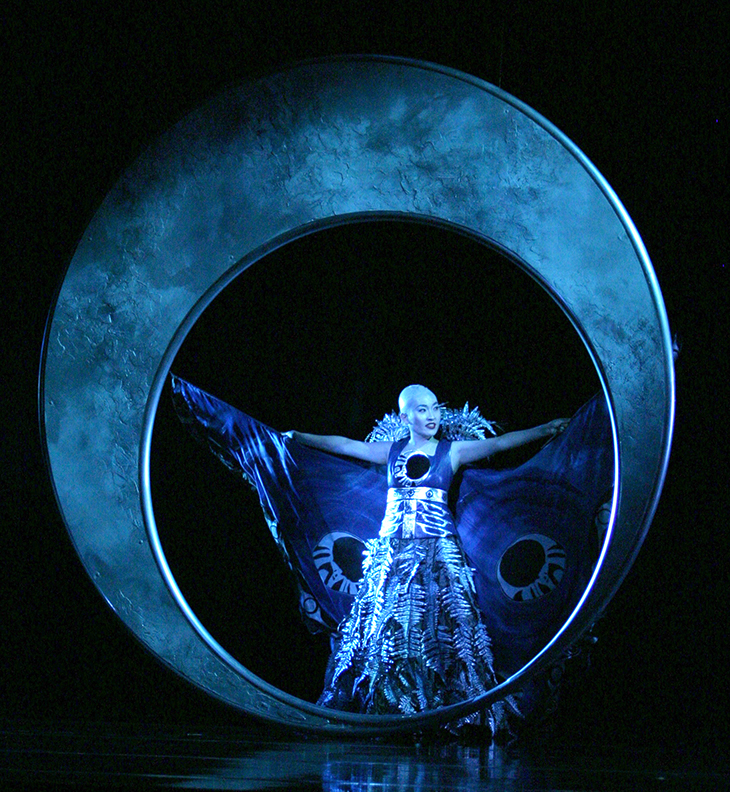 Vancouver Opera
1791 in Vienna... Mozart pens his last and one of his most popular operas - The Magic Flute.
At the same time, halfway round the world, Spanish Captain Jose Narvaez "discovers" the mouth of the Fraser River; and British Captain George Vancouver explores the west coast of BC. He trades with First Nations people, people who have lived in the area for more than 10,000 years, and developed complex societies, intricate art forms, and a cultural and artistic heritage as rich and varied as any civilization on earth.
Two hundred and sixteen years later, on the stage of the Queen Elizabeth Theatre, Vancouver Opera, and a team that included First Nations artists and cultural experts, brought these two disparate worlds together in the premiere of a new production of The Magic Flute - an adaptation of Mozart's classic that combined traditional European opera with west coast First Nations concepts, art, imagery, costumes, symbols and language.
It was a bold move, and a big risk. But that's part of the job for Vancouver Opera General Director James Wright.
"It's a much riskier proposition to do new contemporary work, because the audiences aren't familiar with it, and so they're smaller. It's a real challenge for the whole opera field, to balance the great favourite works that bring in the audiences, while also developing new work, and keeping the art form healthy and alive."
When Wright first thought about adapting Mozart's classic in 2004, he knew it wasn't going to be easy.
"I wanted to do something reflective of this place, something large-scale... Because it's an allegory -- a fantasy -- Magic Flute lends itself to different settings...
"We decided from the very beginning that we did not want to 'stick a feather on Mozart'... we didn't just decorate the piece with First Nations symbols. We really wanted it to be authentic, to feel authentic. That takes time and that takes discussion, and a lot of respect and trust."
"It was a very rewarding process," he recalls. "Not an easy process but very rewarding."
Cathi Charles Wherry, Arts Program Coordinator with the First Peoples' Heritage, Language and Culture Council, which consulted extensively on the project, echoes those sentiments.
"Most First Nations have longstanding traditions of performative storytelling, so the concept of opera is not really that foreign to our artists... When you do something really public like this, there's a lot of expectations and a lot of hope. And I think it was really successful on a number of levels. The artists who said 'yes' and were involved felt very positive about the outcome."
"Our priority for being involved was that the project provide meaningful First Nations content and opportunities for First Nations artists." With the leadership of Executive Director Tracey Herbert, Charles Wherry and other staff from First Peoples advised Vancouver Opera and liaised with First Nations artists on most aspects of the production. She saw the opera three times.
"I was quite moved. Visually it was beautiful... it was amazing to see a First Nations sense of beauty on the stage on that scale."
It took three years of careful planning and consultation, and a record $1.4 million to bring this production to the stage in January 2007. Critical reaction was almost uniformly positive, and audiences raved.
According to Wright, one of the key factors in the project's success was involving First Peoples' Heritage, Language and Culture Council, getting their involvement and their advice. "I can't imagine having done it without them," he says.
Wright is also effusive in his praise of Vancouver Foundation, which gave a $30,000 grant to VO in 2006 specifically for this production.
"I'm a big fan of the Foundation. To have people and institutions who are willing to take a risk, and work a little outside the box.... When we first proposed this to the Foundation, nobody knew whether this was a really good idea or a really dumb idea... For the Foundation to believe in it was really important. And their support helped us leverage support from other people and organizations."
If you missed it the first time, don't worry -- The Magic Flute will be back. The production has become part of Vancouver Opera's repertoire, and will return to the stage in five or six years. And the lobby of the Queen Elizabeth Theatre will once again reverberate with the sounds of drumming, and the trills of Tamino's magic flute.
(Story written: 2008)