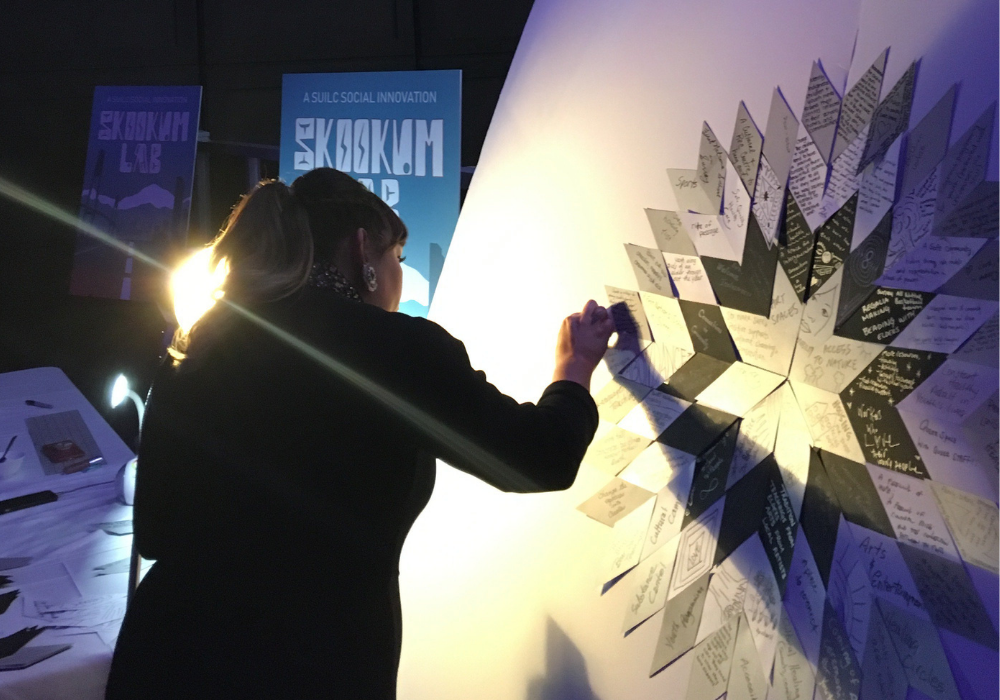 Centering Indigenous Wisdom in Social Innovation
Piecing together community voices in a method inspired by the Starblanket. Photo from Skookum Lab.
Story by Madeline Barber
The Skookum Lab ignited from a single, sobering statistic: that 45% of Indigenous children in Surrey live in poverty.
Surrey, which occupies the traditional lands of the Semiahmoo, Katzie, Kwikwetlem, Kwantlen, Qayqayt, and Tsawwassen First Nations, also has the largest and fastest-growing urban Indigenous population in BC.
Skookum Lab Co-Coordinator Sheldon Tetreault says his team couldn't get that 45% number out of their heads: "Our group, the Surrey Urban Indigenous Leadership Committee (SUILC), wanted to make that a top priority and do something to address that," he says.
That something turned into the Skookum Lab, an Indigenous-led social innovation lab driven by the question: "How can Surrey be a leading city to raise an Indigenous child?" Over approximately three years, the lab not only conducted community-led research and developed prototypes relating to this specific question, but fostered a more connected Indigenous community in Surrey that's stronger than ever.
Indigenizing Social Innovation Labs
Tetreault and his team were initially wary of the lab concept, given the jargon-filled language typically used in social innovation, and the socio-economic position of those who tend to be involved in it—two things that wouldn't be accepted by the community. With this awareness, they established some key principles to ensure the lab was a safe and accessible space, including community-based problem definitions and solutions and centering Indigenous wisdom.
"You can look from the smallest thing to the biggest thing in our lab, how we've Indigenized it," Tetreault said on the Maybe podcast to host Cheryl Rose. Skookum Lab Co-Coordinator Jeska Slater (now Director, Indigenous Priorities at Vancouver Foundation) added that "first and foremost we wanted to honour the protocols of the land-based nations".