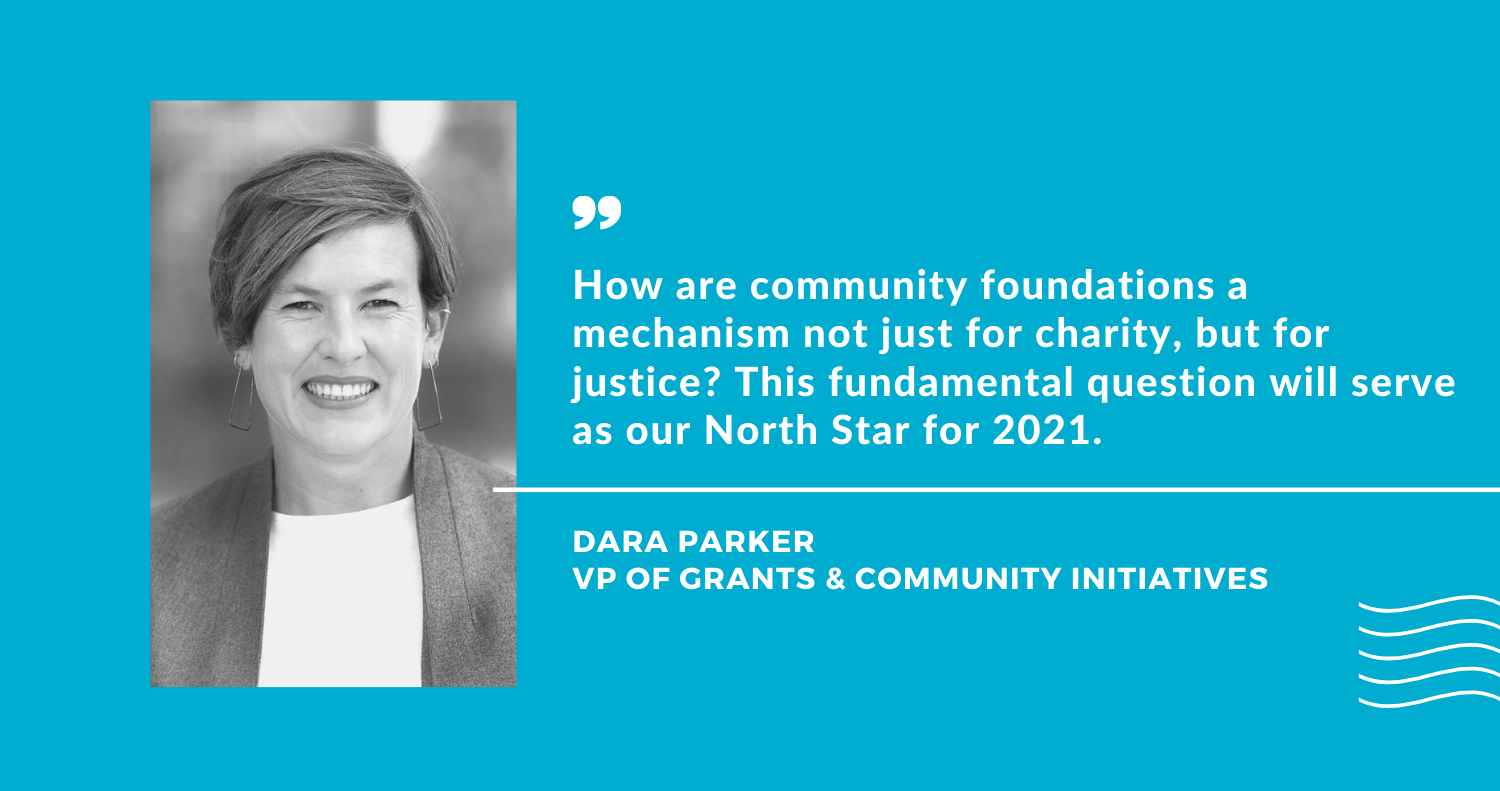 Dara Parker: Moving From Charity to Justice
In 2019 Vancouver Foundation embarked on a project called BetaPhil to explore how we could deepen impact and strengthen equity within systems change grantmaking. We've made a commitment to our community that we'll provide updates, insights, and learnings as the project unfolds. 
In August, we shared the learnings from the Research phase of the project that would inform the next phase of testing. Since then, we hosted 11 co-design sessions with community organizations — including those who've successfully and unsuccessfully applied for grants and those who've never applied — and introduced some changes to the Systems Change Grant application in an effort to improve accessibility. Throughout this process, we've learned a lot and have realized we have more work to do as a community foundation to truly center justice and equity in our work. In this latest update, Dara Parker, VP of Grants and Community Initiatives offers her reflections on what we've learned and why we're looking beyond our systems change grantmaking in how we center justice as our core purpose.
---
I was drawn to join Vancouver Foundation in 2019 because of its bold choice to invest in systems change. Having spent 20 years working in the nonprofit sector, I understood that we needed to address root causes to achieve the change we hoped to see in the world, and that funders needed to support this work. I also recognized that this was inherently risky and would require philanthropists to shift their expectations of measurable outputs in short time-periods (e.g. number of meals/children/trees served). I was impressed that Vancouver Foundation was doing just that.
However systems are 'sticky' as noted in this report, and good intentions do not always lead us where we want to go. bell hooks states that: The heart of justice is truth telling. Vancouver Foundation's truth is that we have funded some excellent work through our systems change granting, which everyone can be proud of.
We also designed a granting program that prioritizes linear thinking, the written word, the English language, organizations that can navigate grant applications steeped in exclusive language (despite efforts to the contrary), that uses a euro-centric definition of systems change, and focuses exclusively on assessing ideas and not actors. In doing so, we uphold dominant culture and, in many ways, continue to maintain the status quo.
We set out at the beginning of this year to question these design elements, and experiment with expanding the scope of systems change granting. We quickly realized that the ambition of our vision for change, alongside that of our communities, went far beyond one granting program — we were being called to fundamentally revisit everything we do. Every conversation returned us to the question of purpose, and why Vancouver Foundation exists in the first place.
After 10 months of learning and doing, we have shifted our key question from how we might strengthen equity and deepen impact within systems change grantmaking to: how are community foundations a mechanism not just for charity, but for justice? This fundamental question will serve as our North Star for 2021.
As Martin Luther King reminds us: Philanthropy is commendable, but it must not cause the philanthropist to overlook the circumstances of economic injustice which make philanthropy necessary. In this vein Vancouver Foundation has an opportunity and a responsibility to focus on addressing injustice at the core of philanthropy.
And yet injustice does not always present as the extremes of armed conflict, slavery, or genocide — it is also the persistent centering of one set of cultural, economic, and social values or perspectives, that suggests they are more natural and legitimate than others. Injustice is thousands of micro actions that contribute to persistent and growing inequality between people, and our relationship with the planet. This injustice is harder to isolate.
Vancouver Foundation prides itself on being directed by, and responsive to, the communities we serve. This will always be core to who we are. But we are increasingly coming to understand this approach, without more intentional effort, can unintentionally privilege dominant culture. For example, we have historically embraced neutrality out of a belief that communities should direct our priorities, not our Board or Staff.
While the idea of being responsive to community priorities is commendable, it can mean those who already have representation disproportionately influence the priorities and direction of the organization. More importantly, it can mean those with less power continue to be left out.
As Desmond Tutu reminds us: If you are neutral in situations of injustice, you have chosen the side of the oppressor. For some time we have heard signals that we needed to do more to engage those outside the dominant culture, and those signals have been amplified by broader conversations throughout society about justice and inclusion. Our communities have been clear, we can no longer be neutral about how we approach consulting, engaging, and supporting our community.
It is time for us to center justice as our core purpose.
In doing so, we are required to fundamentally examine everything that we do, in service of our communities.
This means moving towards trust-based philanthropy and even greater participatory decision-making, challenging the traditional power dynamics of philanthropy, and prioritizing relationships over transactional work, while ensuring that community foundations remain welcoming to everyone.
As we move into 2021 and beyond, we know there is a long road ahead; 78-year old institutions do not change overnight. However, we are committed to this work, and to moving forward in partnership with our communities.
We believe that philanthropy is capable of being bold, nimble, and contributing to a future where everyone belongs. We will be relentless in pursuit of this vision. I hope you join us.
---
Dara Parker is Vancouver Foundation's Vice President of Grants and Community Initiatives
* bell hooks is an author and activist who chooses not to capitalize the spelling of her name in order to place focus on her writing and ideas, rather than herself as an individual.