Harm Reduction in Homeless Shelters
Preventing and Reducing Harms of Substance Use in Homeless Shelter Programs
With drug-related overdose deaths increasing rapidly, there is an urgent need to understand the risk factors for homeless shelter residents. By holding focus groups with shelter staff, residents, and harm reduction workers, researchers are learning more about the crisis and what can be done to resolve it.
Overview
Program:
Health & Social Development, Develop Grant
Organization:
University of Victoria - Centre for Addictions Research of BC (CARBC)
Partners:
Victoria Cool Aid Society
Project Details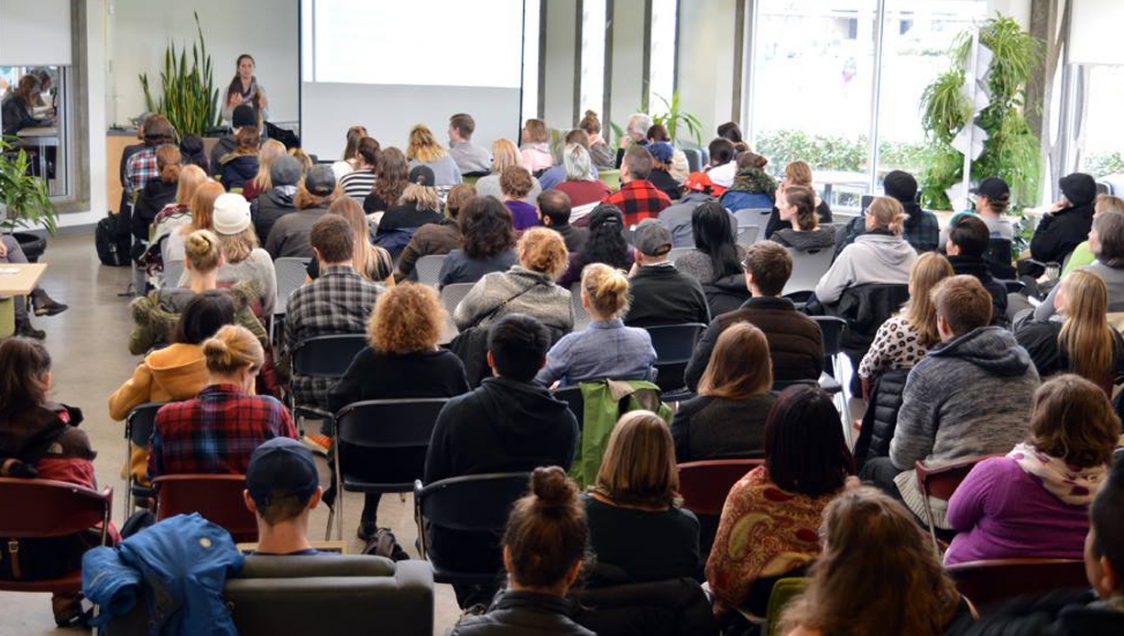 Illicit drug overdoses have increased dramatically across our province. By the end of 2016, there were 978 illicit drug-related overdose deaths recorded in BC (1). Unchecked, it is recognized as a public health emergency with the potential to grow even worse.
Researchers at the University of Victoria, and their partners, are attempting to learn more about the conditions that contribute to this issue through better understanding of the challenges to implement harm reduction in homeless shelters during an emerging illicit drug overdose crisis. Of particular concern is that washrooms in non-governmental organizational (NGO) health and social services agencies and shelters are frequent sites for substance use, often by injection.
This research – one element of a three-part investigation into the crisis – focuses on understanding the reasons behind the practice of drug use in homeless shelter washrooms, and develops policy recommendations to address it.
Overdoses leave a traumatic impact on residents and staff
Focus groups composed of shelter staff, harm reduction workers, and shelter residents—including those self-identifying as active substance users and those identifying as in recovery or abstinence – were used to explore issues of substance use in Victoria shelters.
Shelter workers report that responding to overdose events in shelter bathrooms means that they feel responsible for the lives and deaths of shelter residents
Using shelter bathrooms as injections sites was found to have a negative impact on shelter residents. And while shelter staff recognize that using washrooms is preferable to people injecting alone or in public, it often leads to turning a blind eye towards drug use, even when shelter policy prohibits it.
Responding to overdose events is becoming standard practice for many agency staff – and the research confirms that this places a heavy emotional burden on staff. Shelter workers report that responding to overdose events in shelter bathrooms means that they feel responsible for the lives and deaths of shelter residents, and that deaths in the shelter often prove traumatic.
Implementing Overdose Response Strategy recommendations 
The research also confirms that public injection, including in public washrooms, is more likely when safe facilities and housing are not available for people who inject drugs, and supports previous findings that drug use occurring in unsanitary and rushed conditions can result in unhygienic and unsafe practices (2). 
Based on the finding of this study, researchers suggest the immediate implementation of existing BC Opioid Overdose Response Strategy recommendations, including specifically:
Expanding access to supervised consumption services in regions of BC where overdose deaths are a public health concern.
Expanding access to evidence‐based withdrawal management and substance use support services, including opioid substitution therapy which reduces opioid overdose risk by almost 90%
On the spot drug testing to detect Fentanyl
Continuing to support and expand naloxone
These findings are presented to policy makers, and further discussed in academic papers and conferences, while media articles are helping to raise awareness among the public.