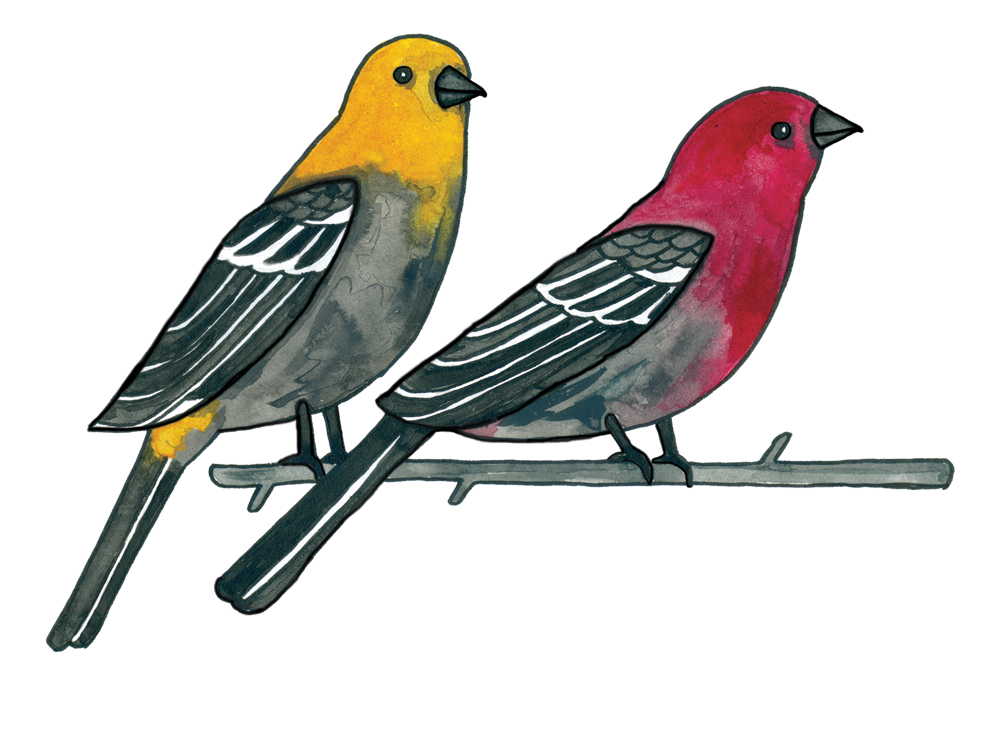 New grant seeks to fund Indigenous-led healing and inclusiveness
Grant reviewer K'aayhlt'aa Haanas Valine Brown shares a few examples of possible initiatives
The illustration of the swiilawiid birds is from the Swiilawiid Sustainability Society logo. From their website: "Our name is inspired by the swiilawiid (Pine Grosbeak Pinicola enucleator carlottae)…. Recent scientific evidence has found that the swiilawiid is a distinct subspecies on Haida Gwaii that diverged from related species some 122,000 years ago."
"What does wellness mean to you? What does sustainability look like for your work? How can a one-time grant help to enhance your organization?" This is what K'aayhlt'aa Haanas Valine Brown encourages Indigenous organizations to think about when applying for Vancouver Foundation's Indigenous Priorities Granting Program (IPGP).
The IPGP supports initiatives that foster community inclusiveness, wellness, and community belonging. The focus is on initiatives that are led by and also for Indigenous peoples. These are grants of up to $50,000 each. The program team and community panel, which Brown is a member of, are both Indigenous-led.
Learn more about the Indigenous Priorities Granting Program >>
IPGP's broad definitions for wellness
Because the IPGP covers operating costs, there's much more freedom in what it can fund. This includes cultural healing, ceremonial practices, and Elder and knowledge-keeper support.
IPGP acknowledges the many ways that Indigenous initiatives contribute to healing, even if they are not entirely focused on it. In Brown's case, she considers her work in energy independence and food sovereignty – guided by people and grounded in place – as profoundly healing.
As a citizen of the Haida Nation and the executive director of Swiilawiid Sustainability Society,  Brown is referring to her work with the movements to make Haida Gwaii less reliant on outside sources for energy and food. The pandemic fueled fresh interest in making the islands more self-sufficient. With travel closures and restrictions, COVID-19 "reminded us that we're out here on this beautiful Island and we are responsible for taking care of ourselves and each other."
"This is the work that helps connect us to place, enables us to fully embrace our responsibilities as stewards to the lands and the waters of Haida Gwaii and ensures our well-being in this precarious time of the climate crisis," she says.
Art and culture fosters community inclusiveness
To bring people together, Swiilawiid and the Haida Gwaii Museum unveiled the art exhibition Hlk'yak'ii: To Start a Fire. Its intention: to be a creative space that envisions energy independence and human resilience in the face of climate change.
Brown saw it as a place for community members, local artists and artists abroad to dream together. Many saw the strong connection between climate change, energy, food, self-sufficiency and collective well-being.
Hlk'yak'ii is now a permanent program at the Haida Gwaii Museum in partnership with Swiilawiid. There, it will be a beacon for language, art, culture and inclusivity to grow the movement for self-sufficiency, especially related to energy, food, and clean water.
With the IPGP's broad definition of community inclusiveness and wellness, Brown sees an opportunity for Indigenous-led organizations to access more funding for what matters.
Applications for the IPGP are now closed with grants to be awarded by end of this year. Sign up for updates and stories about this new grant program. >> 
---
K'aayhlt'aa Haanas (Valine Brown) is an organizer, communications professional, and devoted Haida citizen belonging to the K'aawas Eagle Clan. Currently, Valine works as the Manager of Membership Engagement and Accountability with the Circle on Philanthropy. She has served on boards and steering committees local, regionally, and internationally and is co-founder of Haida Gwaii CoASt and Swiilawiid Sustainability Society. Her work is rooted in her homelands, and Valine's academic and advocacy efforts are centered around environmental justice and Indigenous title, rights, and responsibilities. She believes in the power of people and connection to place and she is fiercely committed to building community resilience amid the climate crisis. Valine does her strategizing on the beach and finds inspiration in the forests.