You are here
Indigenous Priorities Granting Program
Flexible grants up to $50,000 for Indigenous-led organizations to support initiatives that encourage community inclusiveness, belonging, and healing.
Grant applications open November 15, 2021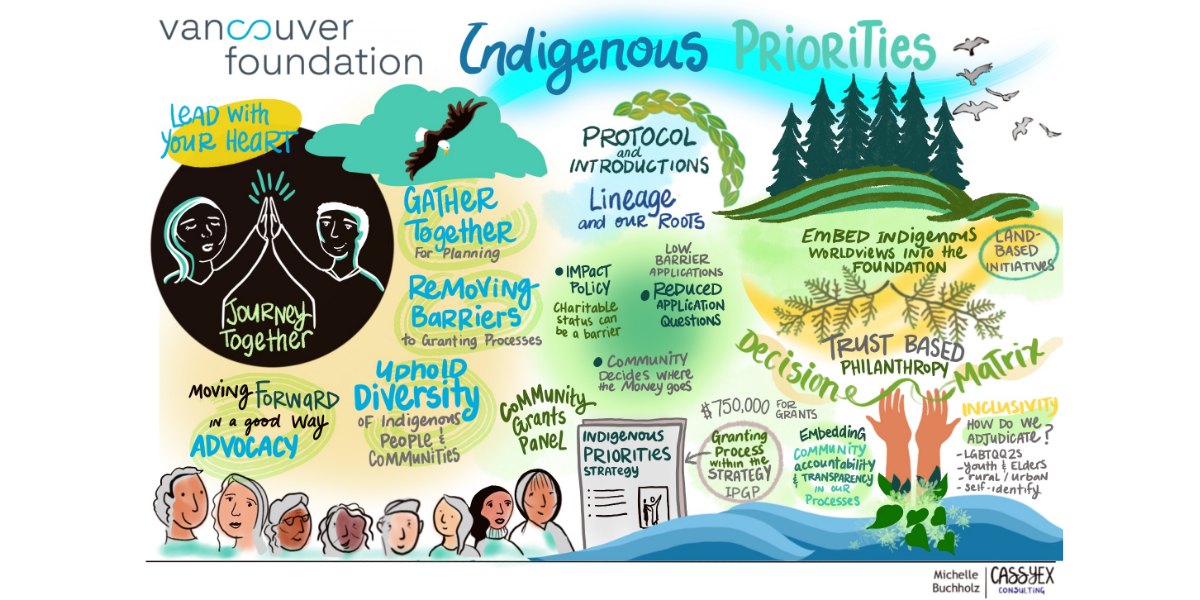 Vancouver Foundation is committing $750,000 to the Indigenous Priorities Granting Program (IPGP) to provide flexible, one-time grants to First Nation, Inuit and Métis communities, and Indigenous-led organizations operating in the lands now known as BC. Grants are available up to $50,000 and are to support Indigenous-led initiatives that encourage community inclusiveness, belonging, and healing. 
 
The IPGP is part of Vancouver Foundation's commitment to Indigenous priorities. IPGP is an Indigenous-led initiative to surface and address critical funding and capacity needs of First Nations, Inuit and Métis peoples.
The social issues affecting Indigenous communities today are deeply rooted in the historic and ongoing impacts of colonization. As a community foundation we are committed to examining how traditional models of philanthropy have contributed to systemic barriers that limit Indigenous communities and Indigenous-led organizations' ability to access reliable and flexible funding.  
 
IPGP seeks to uplift Indigenous priorities and explore how Vancouver Foundation can best listen, learn, and walk alongside Indigenous partners. 
 
Eligibility Criteria
Be "Indigenous led" - Drawing upon on The Circle on Philanthropy and Aboriginal Peoples in Canada's definition, we consider "Indigenous led" organizations as having: 

Indigenous leadership at all levels (including board and executive);  
Indigenous cultures and languages central to its daily operations;  
Programs delivered by Indigenous people; and  
Formal protocols among Indigenous communities.  

Be a qualified donee, meaning a registered charity or another qualified donee listed by Canada Revenue Agency.  

Many First Nation bands are classified as other qualified donees, under the category "Municipal or public bodies performing a function of government in Canada", please click here to see if your band is listed. 
If the criteria of being a qualified donee is a barrier to access this funding, please contact us at indigenous.priorities@vancouverfoundation.ca to discuss how we can support you.

Be located or operating in the lands known as BC.
Priorities
Indigenous-led organizations who have never received funding from Vancouver Foundation. 
Indigenous-led organizations working in or providing support to rural, remote and/or smaller communities. 
Funding can also be used to support staff, fill funding gaps, capacity development and other organizational needs. Capital requests, such as costs associated with equipment, technology or renovations will be considered as long as they enable the work of community inclusion, belonging, or healing.  
Resources
How to Apply
Step 1: Read through the Grant Application Guidelines to ensure you are eligible for funding. 
Step 2: If you have any questions, schedule a call with staff, or attend an online information session (sign up to be notified of any upcoming sessions here!). We'll also share a recording if you're unable to attend.
Step 3: Check out the Application Questions below (or download the Application Form Template) to begin working on your submission. We've simplified the application to just five questions:
Is your group/organization Indigenous-led (i.e. are decisions and direction provided by Indigenous peoples)? Please briefly share how decisions are made. (300 words)
What is the pressing need(s) of your community that your initiative will address? (300 words)
How much funding are you requesting and what will you use the funds for? Requests can be up to $50,000. (300 words)
What are the larger needs of your community right now, beyond this funding request? (300 words) 
Is there anything else you want to tell us? (300 words)
Step 4: Submit your application between November 15-29, 2021.
More information on how to apply using our online system, including instructions and how-to videos, will be made available prior to the application open date. Subscribe to the Indigenous Priorities email list for updates.
If your organization does not have reliable internet access or if you need any support, you can either submit your application by email (send to indigenous.priorities@vancouverfoundation.ca) or schedule time with a staff member to answer application questions over the phone. You can reach us by calling 778.309.1576.
For support and troubling shooting with the online grant management system, please contact Jill St. James at 778.309.1576 or jill.stjames@vancouverfoundation.ca.  
Key Dates
November 15, 2021: Online applications open 
November 29, 2021: Online applications close 
December 16, 2021: Funding decisions communicated 
Contact
For general inquiries and assistance please contact indigenous.priorities@vancouverfoundation.ca.