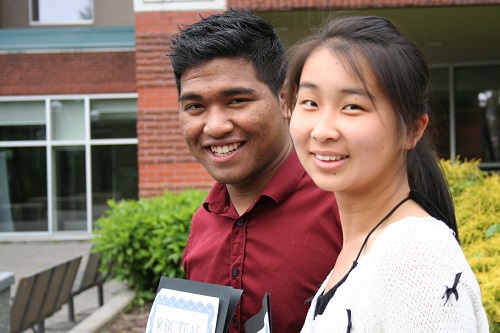 TEAL Charitable Foundation Refugee Award
"They're an inspiration," Michael Galli says about refugee students he has met during his 20-year tenure teaching English as an additional language (EAL).
Galli is past president of BC TEAL, the association of BC teachers of English as an additional language, established in 1967. TEAL and its charitable foundation offer professional development and advocacy for 1,000 members who represent K-12 and postsecondary institutions in public and private settings.
Galli and other EAL teachers began to notice that young refugees in their classrooms—many of whom enter Canada by way of refugee camps—don't have the financial means to access the kind of further post-secondary education to which they aspire.
"They have nothing to fall back on so they must work to survive, taking on menial jobs which don't allow them to complete their vocational or academic programs," Galli said. "They enter a cycle of poverty that may never be corrected."
Committed to helping students beyond the classroom, TEAL established the TCF Refugee Award as a permanent endowment at the Vancouver Foundation in 2014. This award is for a refugee who has shown courage and determination while adapting to a new language and culture in Canada and wishes to study in a post-secondary program in BC.
It was actually born four years ago. TEAL organized silent auctions to fund the award, but raising enough money each year proved challenging. Wanting to sustain a decent-sized scholarship, TEAL turned to Vancouver Foundation where they already held three agency endowment funds, the first since 1988.
"Trust is paramount. After 27 years in a solid and strong relationship with Vancouver Foundation, we didn't consider going anywhere else," Galli said. "Your positive support and ongoing communication has made our decision to build another fund here easy."
Vancouver Foundation is proud to partner with TEAL in its quest to enable EAL learners to participate fully, both socially and economically, in BC communities.
Discover Vancouver Foundation's initiatives and see the impact that donors have made in the community, read the 2014 Year in Review.