You are here
The Community Social Services Employers Association now leading StepUp BC to support all non-profits in BC
The Community Social Services Employers Association now leads StepUp BC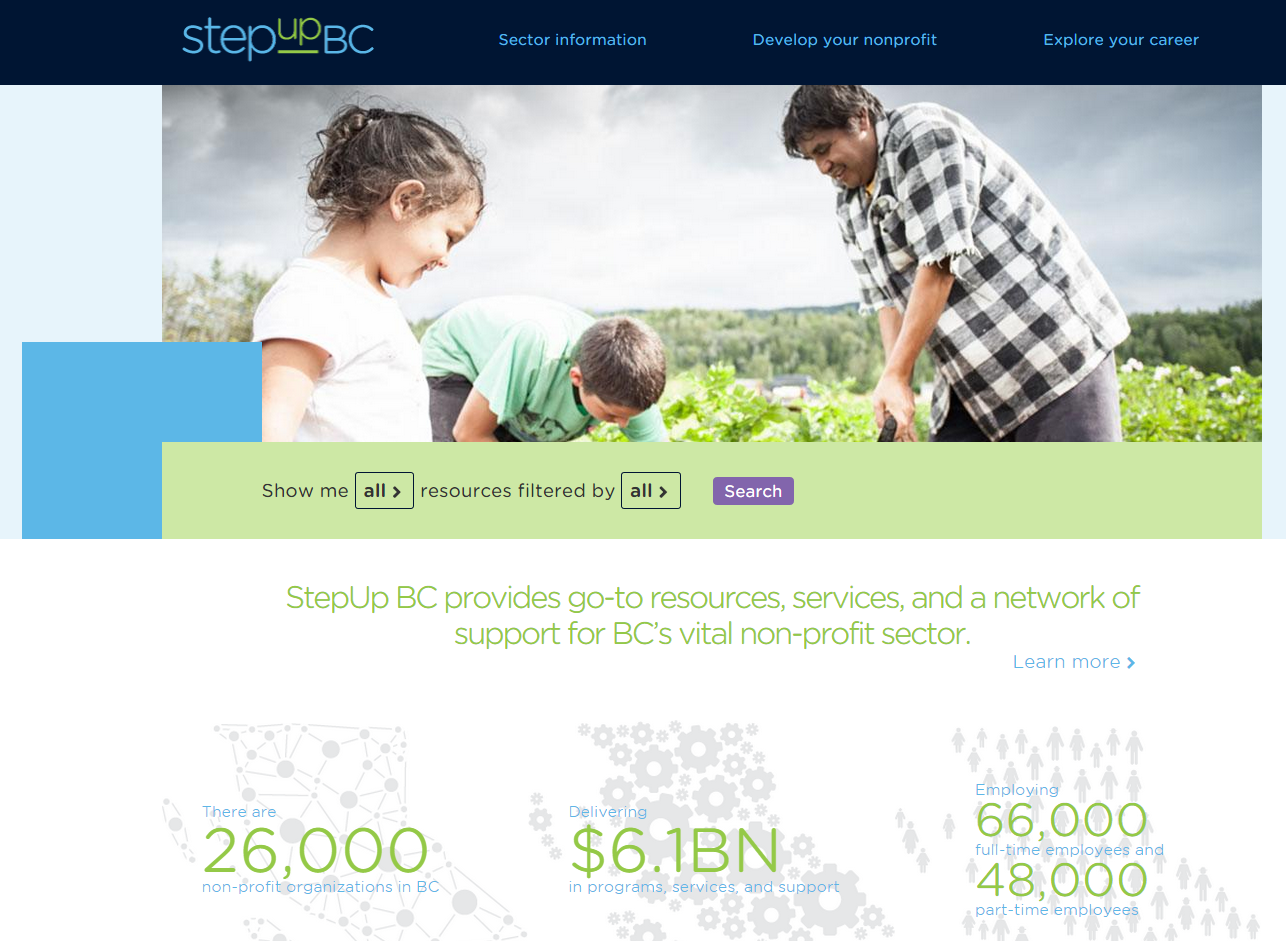 StepUp BC is an initiative of the provincial government's Labour Market Partnership Project funded through the Ministry of Jobs, Tourism and Skills Training. In partnership with the Vancouver Foundation, StepUp BC was developed to support the human resource needs of non-profits in BC. StepUp BC aims to empower BC's non-profit sector to evolve into an employer of choice and a place where people can build meaningful, productive and long-lasting careers.
Since 2009, Vancouver Foundation supported StepUp BC to grow from its early start-up days into an established and effective provincial program. During this time, StepUp BC developed a suite of cutting edge online tools, videos, and resources designed specifically for use in the non-profit sector. Now it's time for non-profits across BC to benefit even more.
The Community Social Services Employers Association will lead StepUp BC to support all non-profits in BC
Vancouver Foundation recognized that in order to support more non-profits across BC, we needed to make sure that the tools and resources get into as many of the right hands as possible. The Community Social Services Employers Association was identified as the best organization to do this, and will manage all StepUp BC activities effective May 15, 2015.
The Community Social Services Employers' Association of BC (CSSEA) is one of six public sector employers' associations in British Columbia. As a leader in Human Resources and Labour Relations, CSSEA is a trusted advisor to its members. Building on their labour relations expertise, human resource and information systems talent, CSSEA has the capacity to innovate, the knowledge to maintain best practice, and the experience to support all organizations across province of British Columbia.
Visit the StepUp BC website
All users can still access the website and online tools in the same way as before. Just visit http://stepupbc.ca/ and find out how these resources can help support your non-profit.
All StepUp BC tools and resources are now open source and free for all to use
Vancouver Foundation recently announced its Open Licensing Initiative in a move to unlock the benefits created by our own intellectual property, and the work we fund. An early innovator in this space, all StepUp BC tools and resources will be shared under a Creative Commons Attribution Licence (CC BY 4.0) so that non-profits across BC are free to share and adapt these tools, creating new ideas and opportunities in the process.
Further Information and Support
For any questions relating to ongoing StepUp BC activities and online resources, please contact StepUpBC@cssea.bc.ca.
Thank you to everyone involved in StepUp BC for supporting the non-profit sector in BC.