You are here
Details Up! BC Community Foundations Gathering 2018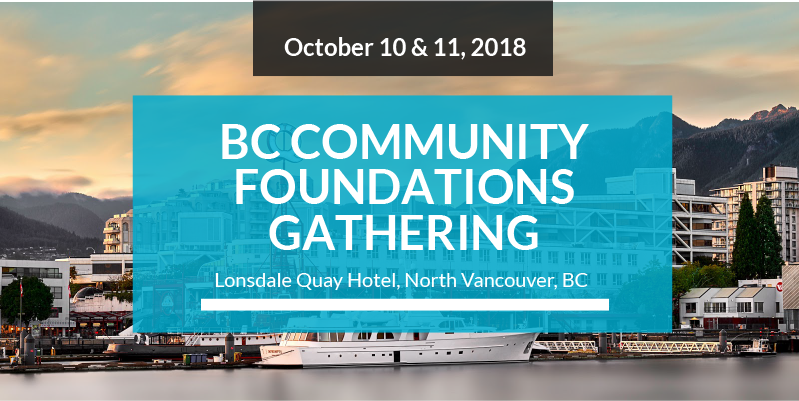 October 10
-
October 11
,
2018
The 2018 Gathering represents an opportunity for BC community foundations to meet and share stories and knowledge and build capacity to ensure stronger communities for years to come.
REGISTRATION
Registration now open, go to our Eventbrite page to reserve a spot.
FULL EVENT DETAILS
October 10, 2018 - 8:30am to 5pm
October 11, 2018 - 8:30am to 4:30pm
And a Wednesday night cocktail reception at Tap & Barrel Shipyards near the venue starting at 5:15pm.
ACCOMMODATION
Participants are responsible for booking their own accommodation. The venue is the Lonsdale Quay Hotel in North Vancouver. A block of rooms has been reserved for $139 (standard room) and $189 (executive room).
Please reference the 'BC Community Foundation block' at the time of booking.
Be sure to book by August 25th to access the special pricing.
PROGRAM SNEAK PEEK
A final program and attendee list will be sent out the week before the gathering.       
Fundraising Bootcamp – This breakout session will be lead by Rowena Veylan. A fundraiser, consultant, teacher and mentor, Rowena has been working within the non-profit industry for over fifteen years. She has held positions at a number of organizations and is currently the Director of Partnerships and Engagement with Minerva BC. In the past Rowena ran her own consulting company and worked with organizations to build fundraising capacity and increase revenue.
 
Decolonizing Practices – Founder & Facilitator Michelle Nahanee will lead this experiential workshop grounded in Squamish ways of knowing. It will feature a giant board game designed by Michelle called Sinulhkay and Ladders (based on the board game Snakes and Ladders). The purpose of the game is to provide a framework for actions we can take, words we can say and ideas we can learn and unlearn to transform colonial impacts.
 
Brand Awareness – This session will look at crafting effective messaging and reaching the right audience at the right time. Presented by Tom Shepansky, Rethink Communications.
 
Working with Professional Advisors – This panel discussion will explore how a community foundation can develop a team of professional advisors that are knowledgeable about planned giving and can help engage in planned giving conversations with donors.
 
Governance Panel - The focus of this panel will be on board evolution such as moving from operating to governing, as well as boards transitioning how they operate in the marketplace.
 
Investment – this presentation will cover a range of topics including: An overview of the current economic environment; how to structure investments in an increasingly volatile world; what Responsible Investing means in 2018; and how to effectively manage an endowment.
 
Community Foundations of Canada Toolbox – For those new to the community foundation movement, or those looking for a refresher, this session will showcase materials and resources available to community foundations. Hosted by Community Foundations of Canada (CFC).
 
Challenges and Opportunities for Small Community Foundations – Using a Pro Action Café format, participants will move between café tables, cross-pollinate ideas and offer each other new insights into the questions or issues that are most important in their work, organization or community.
 
Vancouver Foundation and You - An update on Vancouver Foundation's services to community foundation fund holders or those thinking about becoming a fund holder.
 
Wednesday Night Cocktail Reception at Tap & Barrel Shipyards – 8 Lonsdale Avenue – starting around 5:15pm. The evening event will provide an opportunity to connect with other attendees. A selection of appetizers will be served and drinks will be available for purchase. There are a number of restaurants in the area where people can go for dinner afterwards.
SUBSIDIES
For foundations that require financial assistance to attend, we have a limited number of travel subsidies available. Please contact Trina at trina.prior@vancouverfoundation.ca for more information.