You are here
Did you know about Vancouver's new specialty radio station, Roundhouse Radio?
Vancouver Foundation visits Roundhouse Radio's CEO Don Shafer and Director of Programming Tracey Friesen in Railtown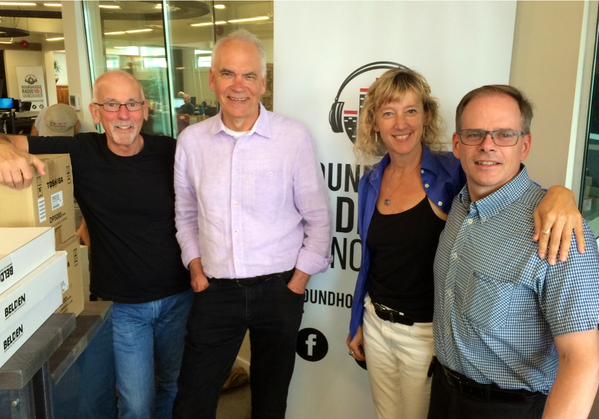 This week Kevin McCort and Al Etmanski visited with the hosts of Roundhouse Radio at their new site in Railtown. The new station plans to launch the urban talk and spoken word format radio station later this summer. 
During the visit, Kevin and Al met with CEO Don Shafer and Director of Programming Tracey Friesen, toured the Railtown studio under construction, and discussed social innovation, the challenges non-profit organizations face in reaching the public and about sharing positive stories of local innovators bringing together diverse populations at grassroots level. 
The genesis of the idea came about after a review of Vancouver Foundation's Connect and Engage Report that stated the City of Vancouver was feeling isolated. The Roundhouse team felt they could address some of those issues with a radio station that was inclusive, rather than exclusive. That would bring together ALL of Vancouver's numerous and varied cultural and ethnically diverse communities.
"We know well how challenging it can be to surface and shine a light on the great work happening in communities all across BC. We're very supportive of ideas like this, that connect people to causes that matter, and that show how valuable our individual contributions to our communities can be," said Kevin. "It is such a great concept and it was fantastic to see the energy behind this project in person. We're looking forward to the launch!"
The Canadian Radio and Television Commission granted Roundhouse approval to launch the station after hearing from numerous local supporters and well wishers. 
Find out more: