You are here
Downtown Eastside Small Arts Grants Group Show
Interurban Gallery at 1 East Hastings and Carrall Sts.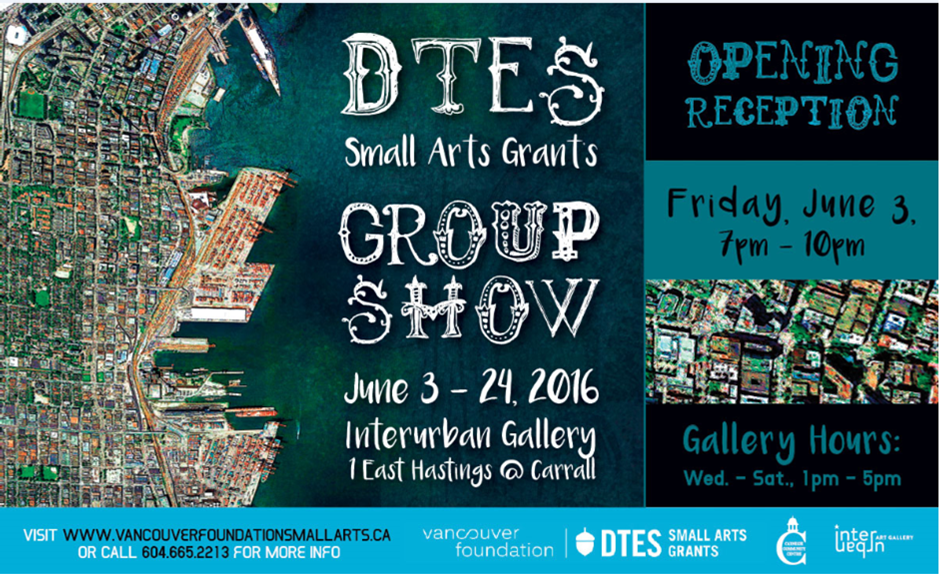 Vancouver Foundation and Carnegie Community Centre are proud to present the 2016 Downtown Eastside Small Arts Grants Group Show. The show is free and runs from June 3 to 24 at the Interurban Gallery.
Curated by new media artist and designer Jen Castro, more than 45 grantees will showcase their art in a wide range of mediums including painting, mixed media, photography, literary arts, textile, video, and more. Many of the items in display will be for sale, and 100% of the sales will go to the artists.
Entering its 6th year, the small arts grants program gives artists living or working in the Downtown Eastside the opportunity to develop their artistic talent and showcase their work to the public in the form of exhibitions and local performances. In 2015-16, Vancouver Foundation funded 97 arts projects in the DTES for a total of $92,458.
"This is a one-of-a-kind grants program for artists in the Downtown Eastside," says Kay Yamamoto, Coordinator of the program at Carnegie Community Centre. "The grants fund emerging artists from such a wide variety of disciplines, you never know what amazing ideas will come next", she adds.
"We are excited to hear that some of our past and current grantees are beginning to receive government grants such as Canada Council for the Arts," notes Meseret Taye, Program Manager at Vancouver Foundation. "It goes to show that by starting off with a small grant of less than $1,000, the artists in our community can get recognized at a national level."
Find out more about the show and the artists at: http://vancouverfoundationsmallarts.ca
Read the press release: Celebrate Downtown Eastside arts projects at the Interurban Gallery group show June 3 - 24