You are here
EVENTS: RISE, An Ideas Competition addressing sea level rise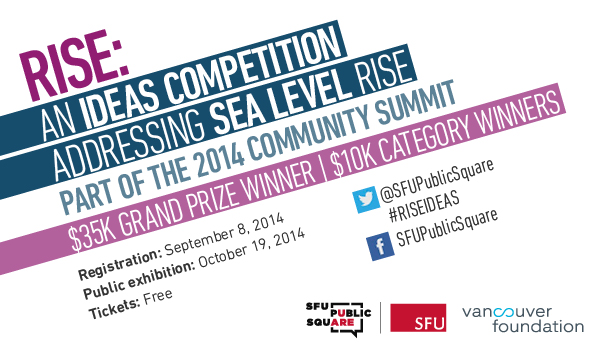 SFU Public Square has launched Rise: An Ideas Competition Addressing Sea Level Rise  to find innovative ways to address sea level rise in Metro Vancouver.

Sign up to enter the competition, or simply join in on Exhibition Day.
Free public exhibition
On exhibition day, doors to the public for a free public exhibition of all the great ideas that come out of RISE. As a public visitor, you are invited see the ideas, meet the teams behind them, and listen-in to the idea pitches. There is no need to register, just turn up on the day.
Listen-in on pitches
As the day unfolds, each team will have the opportunity to pitch their idea to our panel of judges – including you! Hear about how each team has tackled the issues associated with sea level rise in Metro Vancouver, and see how their idea creates the opportunity for communities to adapt and thrive.
Cast your vote
By voting on ideas via your mobile phone, you will have the final word on which team takes home the People's Choice prize. Meet the teams, ask questions, choose your favourite ideas, then head over to their idea page on the website to cast your vote online
When
Sun, 19 Oct 2014 11:00AM to 6:00pm
Where
SFU's Segal Building,
500 Granville Street, 
Vancouver, British Columbia, V6C 1W6