You are here
On the Table is back again to bring BC together through food and conversation
Ending loneliness is hard, but connecting with people can be easy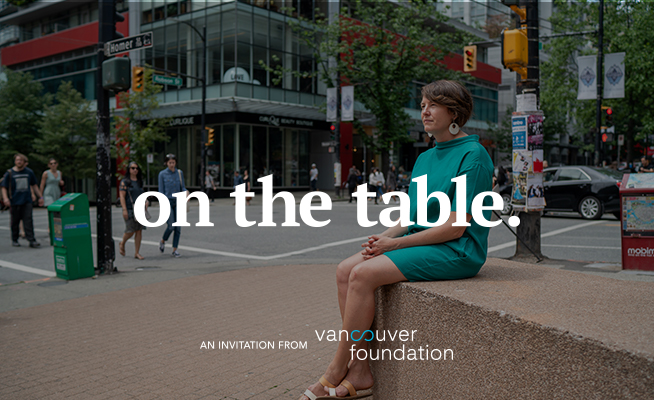 On the heels of a successful inaugural year, Vancouver Foundation is presenting its innovative On the Table conversation series again in 2019. This September 26, hosts from across the province will invite friends, family, coworkers, and strangers to gather, share food, and talk.
Inspiration for the event came from a 2017 report that revealed many residents in Metro Vancouver are feeling disconnected from their community. In a survey of almost 4,000 people, Vancouver Foundation found that one-third of those between 25 and 34 felt alone more than they would like. Another one-third said they have trouble making friends. Forty per cent of high-rise dwellers felt lonely, almost twice the number living in detached homes. Crucially, the research found the loneliest people also reported being in poorer health.
"We ended our Connect & Engage report with a call to action, for everyone to do more to create a sense of welcome and belonging," said Kevin McCort, CEO of Vancouver Foundation. "With On the Table, we're stepping up to do our part."
Last year saw 361 hosts and more than 4,500 guests gather in places like living rooms and lunchrooms, local restaurants, parks and community spaces. People talked about everything from reconciliation to sustainable food to the survival of bees. Vancouver Foundation collected all these topics and released a report titled Community Reflections & Insights that detailed the pulse of community, featured experiences from both hosts and guests, and shared what the organization learned from the initiative.
"Getting together face to face is important," McCort said. "This kind of event won't solve social isolation, but when we come together as a community to talk and listen, we have the power to change neighbourhoods and lives. That's what On the Table is all about."
Once again this year anyone anywhere can organize an event. The conversations are a perfect opportunity to talk about issues big or small, or even just to get together for the sake of it. Hosts will have access to materials and resources to help prepare for their event, invite guests, and guide conversations. After the event, Vancouver Foundation will ask hosts to submit surveys that will include any themes and topics they discussed, numbers of participants, and other information about connection and community. This data will then be shared with the public.
"This is a great chance to share what's on your mind," says McCort, "and a great way to create community."
For more information, to sign up for a newsletter, or to register as a host, visit www.onthetableBC.com.
Media Contact:
Glenn Ewald, Director of Communications
604-688-2204 or glenn.ewald@vancouverfoundation.ca