You are here
Vancouver Foundation's Fostering Change initiative launches Write the Future campaign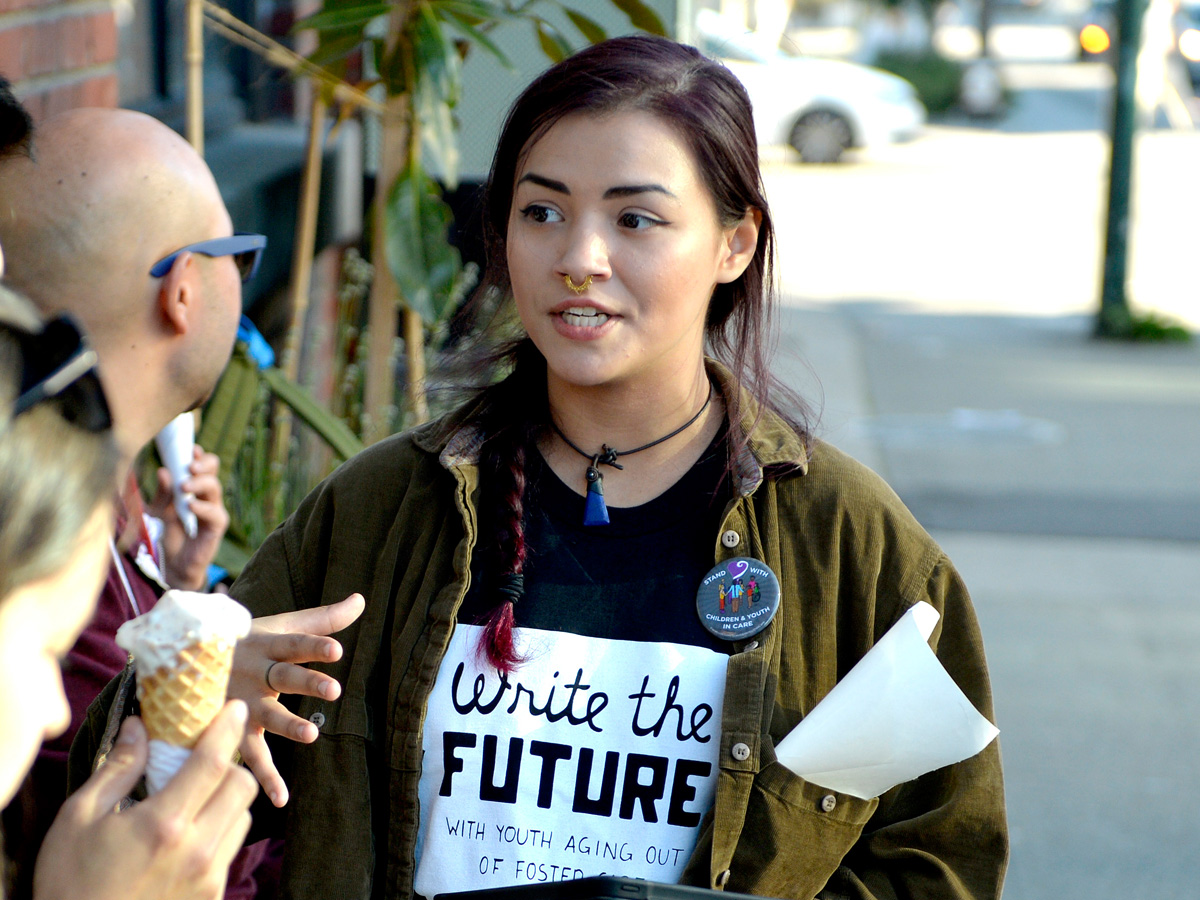 All too often, youth aging out of foster care end up homeless, are thrown into adult life before finishing high school, and have no-one to turn to in their 20's. In BC, approximately 40% of homeless youth have some history in the child welfare system, and fewer than 35% have graduated high school by 19.
But it doesn't have to be this way, and our Fostering Change initiative is aiming to change things.
In our latest effort to increase public awareness and political will on this issue, Vancouver Foundation's Fostering Change initiative has launched a new campaign called WRITE THE FUTURE. The campaign invites the public to sign a petition to back more support aimed at improving the prospects of youth aging out of foster care.
A petition for the kind of support we give our own
The petition includes a call for financial support with basic living costs, relationships with caring adults for advice and support, and more opportunities for youth leaving foster care to connect and contribute to the communities they live in through creative, cultural, and volunteer activities.
"This isn't about youth from foster care receiving special treatment" says Mark Gifford, Director of Grants and Community Initiatives at Vancouver Foundation. "It's about access to the kinds of support young people typically get from their families well into their 20s. If it doesn't make sense for parents to cut ties with their own kids at 19, why would it for youth aging out of foster care?"
"The petition is based on what we've learned from research with youth from foster care, partner organizations, academics, and the BC public, says Meredith Graham, Youth Advisor to the Fostering Change initiative at Vancouver Foundation. "Signing the petition is an important way to show your support for increased community, political and business leadership devoted to the success of youth leaving foster care," she adds.
92% of parents in BC provide their children aged 19-28 with a range of financial, social, and emotional supports
A 2016 opinion poll by Insights West revealed that 92% of parents in BC provide their children aged 19-28 with a range of financial, social, and emotional supports. Most BC families contribute to tuition costs, rent, groceries, and connections to help youth find that all important first job. The BC public is on board with extending these kinds of supports to youth who've been in foster care – 71% were in favour of financial support with living expenses until age 25.
With a year to go before the next Provincial election there is a window of opportunity for community, political and business leaders to work with young people and commit to a plan that better supports youth aging out of foster care.
"As a community foundation, one of our roles is to give voice to groups of people that may have limited opportunities to advocate for themselves," says Kevin McCort, President and CEO of Vancouver Foundation. "Young people leaving foster care deserve every opportunity to succeed, and signing this petition will show community, political, and business leaders that it's time for change."
Find out more about the campaign and sign the petition at fosteringchange.ca.
About Fostering Change
Fostering Change is an initiative of Vancouver Foundation to improve policy, practice and community connections for young people transitioning from foster care to adulthood. We're working in collaboration with a growing set of partners to achieve our goal – that every young person leaving foster care has the opportunities and support needed to thrive as adults.
Find out more at: http://www.fosteringchange.ca
Media contacts:
Jon Garner | Vancouver Foundation
Communications, Grants & Community Initiatives
604.630.5023 | jon.garner@vancouverfoundation.ca
Mark Gifford | Vancouver Foundation
Director, Grants & Community Initiatives
604.657.3908 | mark.gifford@vancouverfoundation.ca