You are here
Vancouver Foundation celebrates Giving Tuesday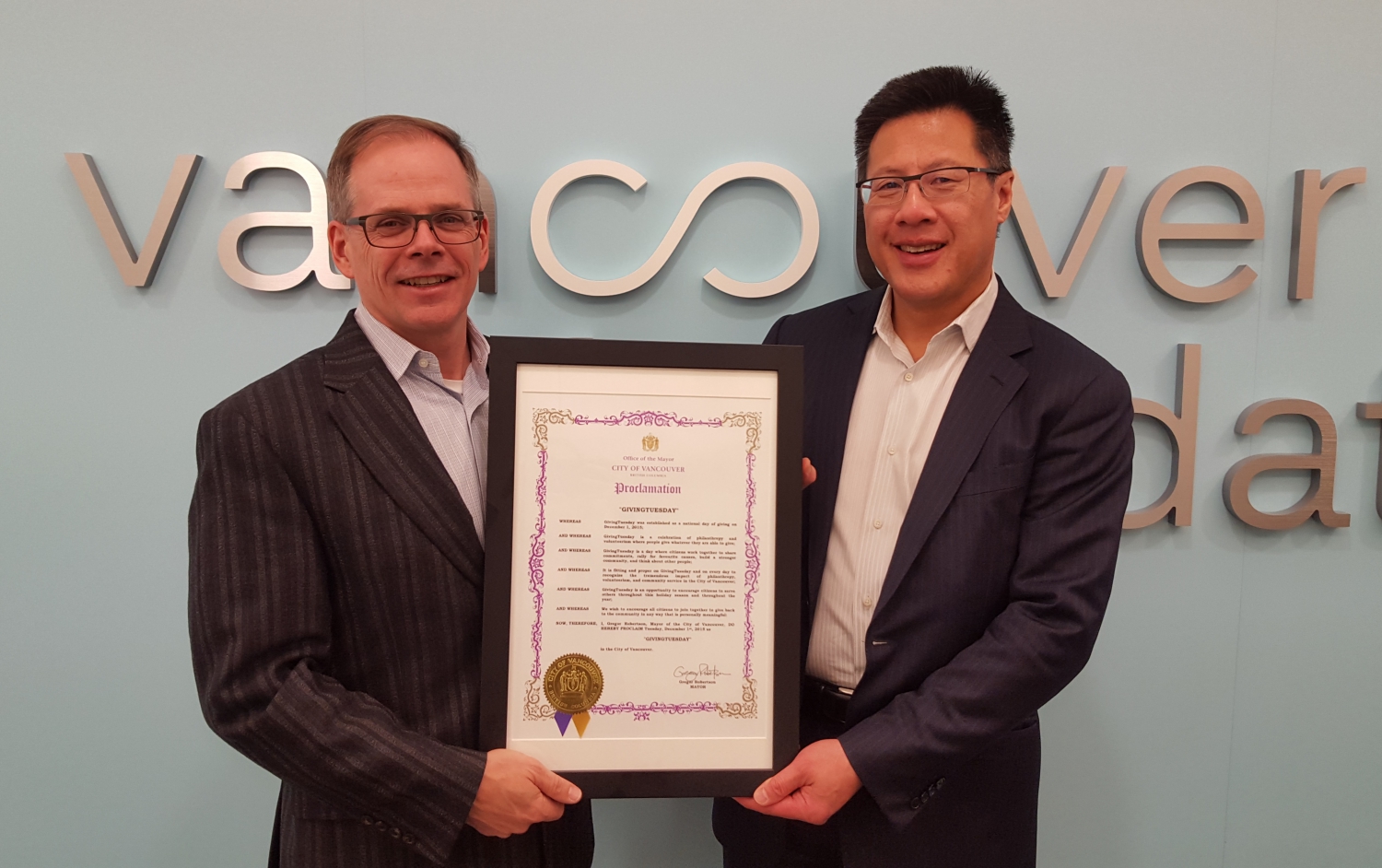 Giving Tuesday is a global day of giving that happens each year after Black Friday and Cyber Monday and marks the opening day of the giving season. It's a time when Canadians, charities and businesses join together and give back to the causes they care about during the holiday season.
Vancouver joins many other cities across Canada that have proclaimed December 1st, 2015 as Giving Tuesday. We are very appreciative of the support the Vancouver Mayor's Office and Mayor Gregor Robertson have shown for the continued growth of philanthropy, volunteering and community service in our cities.
"Giving Tuesday is the perfect opportunity to provide a much needed boost to charities, at a time when giving is foremost in everyone's minds," says Kevin McCort, President & CEO of Vancouver Foundation. "It's great to be a part of this global movement once again this year."
Vancouver Foundation reached out to hundreds of its fundholders to ask if they would like to participate in Giving Tuesday this year by making new grants from their funds by December 1st. We're excited by the response we've had so far and look forward to sharing the results on Giving Tuesday.
Our fundholders often choose to grant throughout the year to registered Canadian charities, selecting causes and initiatives that matter most to them. Fundholders also support Vancouver Foundation's own granting program where volunteer advisors evaluate hundreds of projects on their behalf to ensure effective support for a wide variety of causes and issues – from arts and culture, to social services, to addressing urgent needs in the community.
Our fundholders will join millions of Canadians, over 3,300 businesses and charities who will take part in Giving Tuesday this year.
More about Giving Tuesday:
Since its inception in Canada two years ago, Giving Tuesday has seen a significant rise in participation and last year grew single-day charitable donations in the country by 75% compared with the same day in 2013. Globally, more than 26,000 charities and businesses in 68 countries participate in Giving Tuesday.
Donations are just one way of getting involved in Giving Tuesday. Volunteering and other forms of giving are an important part of the annual event with individuals, families and work colleagues getting behind initiatives such as clothing drives, helping out at local food banks, signing up to donate blood and other acts of kindness.