You are here
LEVEL Youth Granting
Grants of up to $50,000 for charities and other qualified donees across the province to engage Indigenous and racialized immigrant and refugee young people in staff leadership and board governance.
Applications Open: Week of June 24, 2019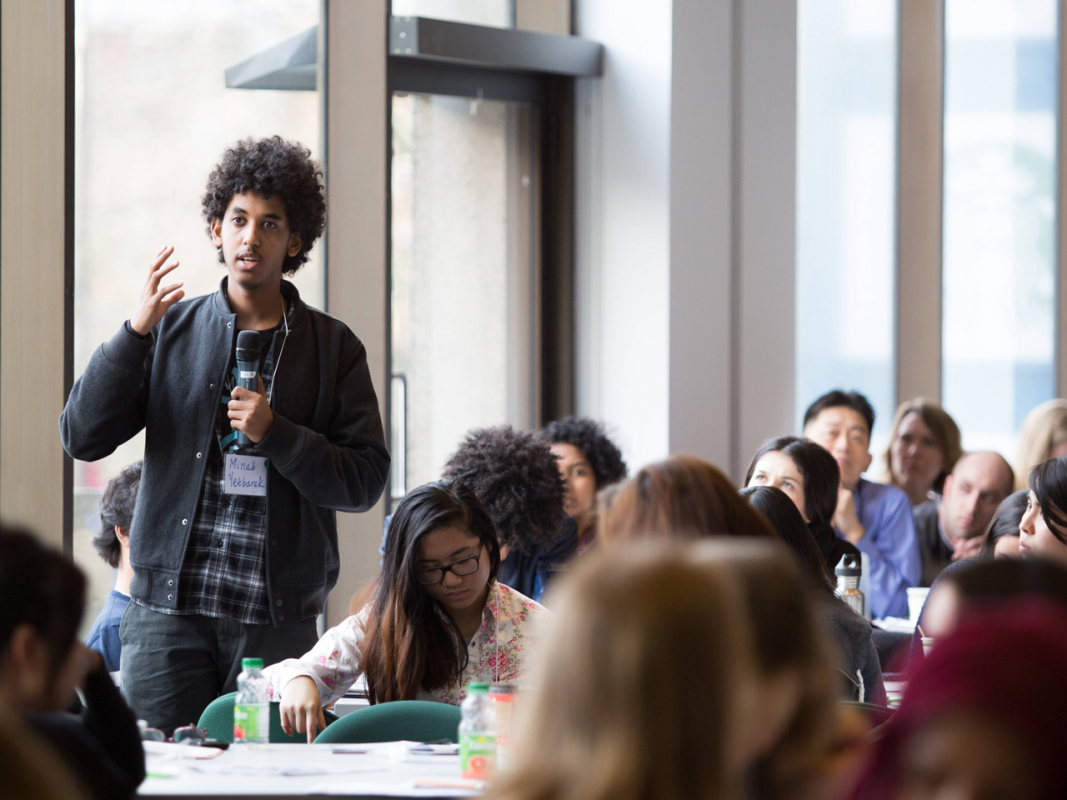 Through our work in Fostering Change and Fresh Voices, Vancouver Foundation has learned that our fastest growing youth populations – Indigenous, immigrant, and refugee youth – face disproportionate barriers to influencing change within our social, civic and public systems. They have far fewer opportunities to access the kind of support that would allow them to advocate for public policy change, participate in civic engagement activities, and/or become leaders in the non-profit sector.
In 2018, LEVEL, our youth granting program will build on these learnings and address the racial inequity experienced by Indigenous, immigrant, and refugee youth by investing in their leadership capacity and supporting their future work on issues that affect them.
The LEVEL initiative consists of three strategies.
LEVEL – Youth Policy Program: to support young Indigenous and immigrant and refugee leaders to develop and pursue policy solutions to address the issues that affect them and their communities. More information will be available by the end of 2018.
LEVEL – Youth Organizing: to support and work alongside young leaders to engage in grassroots social change through activities including community organizing and political advocacy. For the remainder of 2018, we will continue to advance the #LostVotesYVR campaign, advocating for the extension of municipal voting rights for permanent residents in the City of Vancouver.
LEVEL – Youth Granting: to promote youth leadership within the non-profit and charitable sector by creating pathways for staff and governance leadership for Indigenous and racialized immigrant/refugee young adults.
Types of grants
Develop Grants (up to $10,000)
These are short-term grants that generate ideas and build capacity and common ground for shared action and learning by community stakeholders. Grants may support work such as determining organizational readiness or convening stakeholders as a cohort (geographic region, sector-specific i.e. the arts; social services) in development of practice and/or policy changes. For example, organizations could explore what decolonizing their board structure or recruitment and retention strategies might look like. Activities are typically completed within six months.
Test Grants (up to $50,000)
These grants help project teams test ideas and learn what works. Grants may support work such as piloting an initiative at the staff or board level. For example, a board mentorship program could be used to recruit young leaders as board members or funds could go towards addressing current inequities by increasing the job security for Indigenous or racialized immigrant or refugee young adults (through paying a living wage, providing benefits, full-time employment etc.).  Activities are typically completed within 12 - 18 months.
Guidelines
Vancouver Foundation has a two-stage online application process. The first stage is a Letter of Intent, which consists of a brief proposal to determine basic suitability. Once a fit has been established with Vancouver Foundation staff, a short-list of organizations will be invited to submit a full proposal.
The 2019 Call for Proposals and Application Guide will be released shortly, but please feel free to consult 2018's materials below.
The Call for Proposals provides an overview of the program, assessment and eligibility criteria, important definitions and further information about the application process. Please download the 2018 Call for Proposals here. 
 
The Application Guide contains step-by-step instructions on filling out a letter of intent and full application, and includes every question you will be asked throughout the online application process. Please download the 2018 Application Guide here.
LEVEL Youth Granting does not fund:
Projects that take place primarily outside of BC
An organization's core operational expenses
Project expenses that have been incurred prior to the application date or that we feel should be covered by other funding sources
Event sponsorships
Bridge funding, debt retirement, reserves or mortgage pay-downs
Endowment matching grants
Capital and public infrastructure projects (e.g. libraries, schools, health care facilities)
Travel to and/or attendance at conferences, competitions, symposia or annual events
Bursaries, scholarships and awards
Key dates
Week of June 24, 2019: Open for proposals
August 9, 2019: Deadline to submit Letters of Intent
September 23, 2019: Deadline to submit Full Applications (invite only)
Grant Alerts
Never miss another deadline. Sign up to receive updates about workshops, calls for proposals, and application deadlines.
Contact
Abeer Yusuf, Grant Coordinator
Contact Abeer for information about the application process, or to discuss the priorities and policies of the LEVEL Youth Granting program.
Email Abeer
Alejandra Lopez Bravo, Manager and Vi Nguyen, Director
Contact Alejandra and Vi for information about the Youth Public Policy Program and/or Youth Organizing strategies.
Email Alejandra
Email Vi