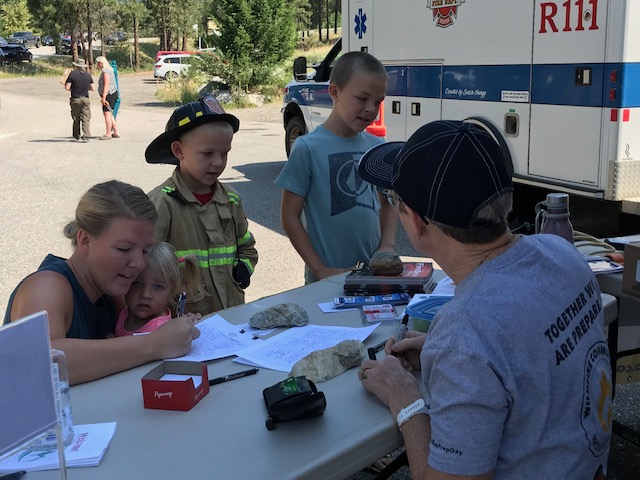 Ideas for Rebuilding Community: 2021 Vancouver Foundation Magazine
Left: Kevin McCort (left) and Crecien Bencio (centre) meet in the Renfrew-Collingwood neighbourhood in East Vancouver where Bencio resides. Photo by Taehoon Kim.
The 2021 Vancouver Foundation Magazine is a collection of ideas for rebuilding community. We've amplified the voices of people who are shaping BC's recovery from the pandemic.
Over the next few weeks, we'll post each story from the magazine onto our blog. For the magazine's launch day, please enjoy these words of welcome.
From Kevin McCort, President & CEO of Vancouver Foundation
Despite all that the COVID-19 pandemic has thrown at us, Vancouver Foundation has emerged with new resolve. Now, more than ever, it's a time of opportunity to rebuild with community voices at the front and centre of it all — especially the voices of people who hadn't been included in the past.
We have the important opportunity to centre Indigenous knowledge, which has largely been made invisible to many people. Another important opportunity is to focus on the inclusion of people
with disabilities when it comes to rebuilding community.
This magazine contains a diversity of viewpoints that are meant to inform, challenge, and pull back the curtain on the complexity of the work we do. We hope you enjoy it and welcome your thoughts. Thank you for sharing your gifts of energy, time, ideas, and money with each other.
From Crecien Bencio, Systems Change Grant Advisor at Vancouver Foundation
Before colonization, the area of Renfrew-Collingwood had an abundance of wildlife, rivers, and beaver-made lakes. Today, my neighbourhood is a home for newcomers who shape the city. In its shopping districts, seniors line up in the early morning to purchase chayote and daikon. When day turns to night, the atmosphere becomes filled with laughter; families sip congee and youth occupy the streets with bubble tea.
These flavours are evidence of the power of community in these streets. This place is built by youth activists who advocate for culturally relevant food assets, and against gentrification. I count myself as one of these youth activists, and we deeply know how systemic injustice shows up in our everyday lives. So, we organize with full hearts and speak to the city council with hope. We go home
to our parents who then feed us unlimited quantities of rice, and we are replenished.
To do non-profit work in a way that is just is now resonating across communities. As a result, charities and non-profits are transforming, and young people are at the fore. By supporting youth-led organizations on the frontline, Vancouver Foundation is shifting and sharing power. Such organizations are constantly looking out for ways to make substantial change, particularly for the underrepresented neighbours who need it the most.
I write this as an expression of love for my youth peers who are my educators, my comforters, my dreamers. They teach me how to shape a world of possibility. I write this with gratitude for the privilege of connecting with donors like you, who are supporting organizations on a journey of change. For you, I will always be grateful.