You are here
Children of God - The story of an Indigenous family torn apart by Canada's residential schools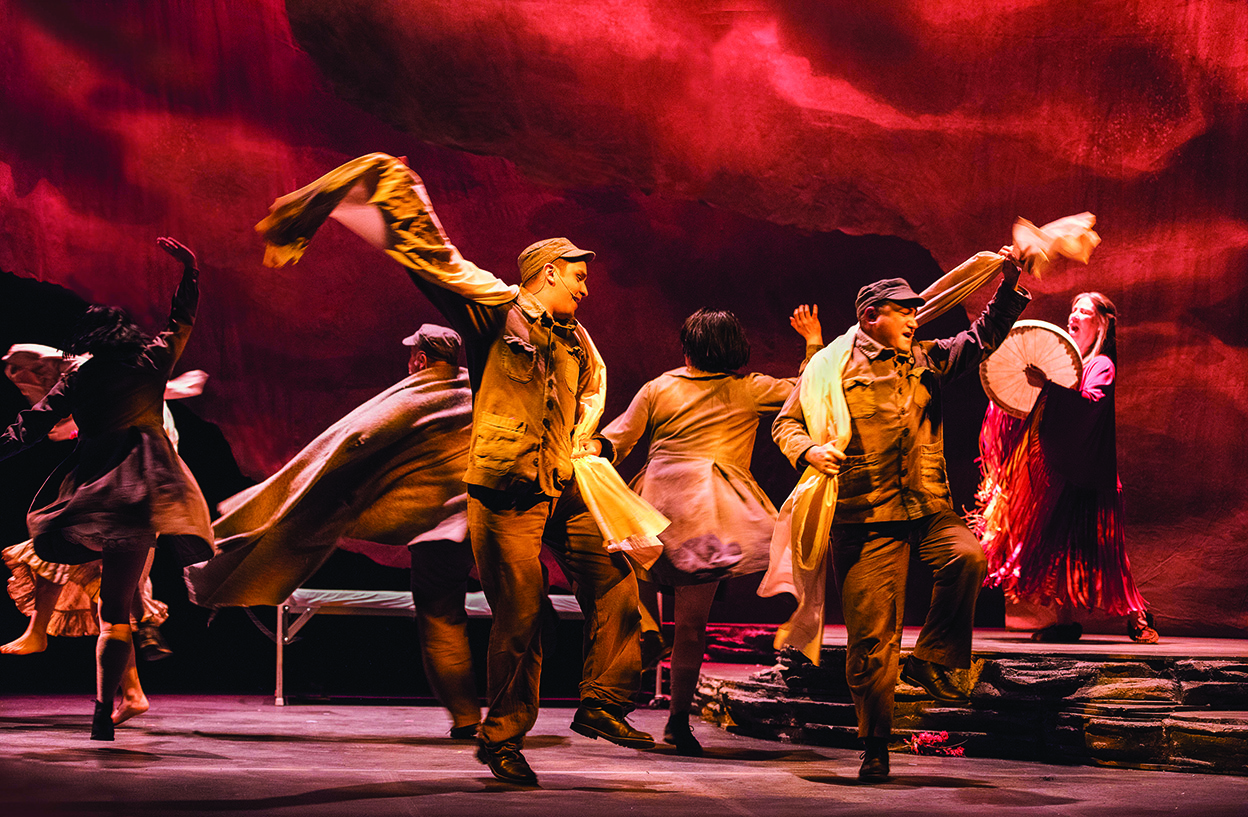 This story was originally published in the 2018 issue of the Vancouver Foundation Magazine.
Written by Stacey McLachlan
Director/writer Corey Payette was in the audience, watching an early showing of his musical Children of God, when he noticed the elderly man next to him, weeping.
Payette reached over to express sympathy, and encouraged the man to take a break. It wasn't necessarily surprising to him that this audience member was upset. Payette's critically acclaimed production jumps between two decades to tell the story of an Indigenous family torn apart by Canada's residential schools, a deeply emotional and triggering issue. In fact at each show emotional support workers were waiting in the wings specifically to help comfort and console anyone who needed it.
But the man refused to leave, even as his body heaved with sobs. "He just looked at me and said, 'I never thought that anyone would care enough to hear my story, so I'm going to sit here and watch it all,'" Payette recalls.
It was a moment that validated all that Payette, artistic director of Vancouver's Urban Ink Productions, had been working toward over seven years of development on Children of God. "Growing up in Northern Ontario, residential schools weren't something we talked about with my family, it wasn't taught in schools," explains Payette, who is of Oji-Cree heritage.
Frustrated with the silence, he made a decision to bring these stories to the stage. "There are traumas we don't talk about because it's painful – but even if it's hard, we are better for it," he says.
Payette interviewed dozens of residential school survivors to piece together a haunting look into Canada's history that tore apart Indigenous families and destroyed so many lives.
But while Children of God is about loss, it's also about strength. "Survivors would talk to me about how they had to move forward and how they were able to rebuild lives and families," says Payette. "No one knows about the strength that it takes to forgive, and to pick up your culture and language; these parts were beaten out of you."
Vancouver Foundation's support for Indigenous voices in the arts and its $25,000 grant were pivotal in bringing this project from its initial concept to the stage. "Vancouver Foundation's early support for any artist is really important to knowing you can do your best work," says Payette.
Though at first glance musical theatre might be a surprising genre for such a serious topic, one can't forget the powerful role music has always played in Indigenous culture. "You can't tell a story without a song and that song having a dance," says Payette. "It's a part of how we share our history."
That culture of storytelling extended beyond the script: after every performance the cast would engage the audience in a dialogue about the residential school experience and reconciliation. Survivors would speak to the audience, often through tears and in their Indigenous language; one Ojibway woman, taken from her family in the Sixties Scoop (the mass removal of Indigenous children from their families) and raised by a white family, shared that the performance was the first time in her life that she'd heard the Ojibway language spoken.
Beyond the rave reviews, it's these sorts of experiences that Payette counts as markers of the show's success. "The work I had a chance to do is because of these survivors who sang the songs in secret; who whispered the language when it was illegal," Payette says. "What I'm most proud of in this whole process is that I could create a space to allow survivors to be heard."