Let's Speak Up
Empowering Residents of Vancouver's Downtown Eastside
Vancouver's Downtown Eastside is in a major period of change with the development of a new St. Paul's Hospital, the slated removal of the Georgia and Dunsmuir Viaducts and condo development along Hastings Street. Yet the voices of Downtown Eastside residents are rarely heard in planning discussions, or on governance boards that serve the area. Let's Speak Up is helping residents take their rightful seat at the table to weigh in on the future of their community.
Overview
Program:
Health & Social Development, Test Grant
Organization:
Downtown Eastside Neighbourhood House
Partners:
Vantage Point, The UBC Learning Exchange, Megaphone, Pivot Legal Society, and 23 local agencies
 
Project Details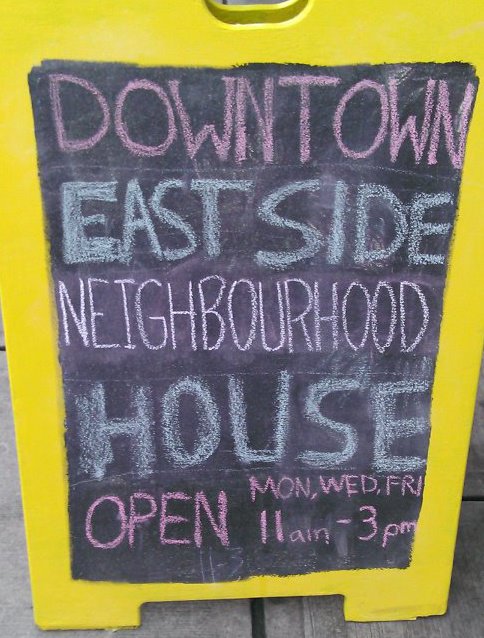 More than 260 agencies serve the Downtown Eastside and less than half include community members in governance roles. Less than 10 percent of agency boards appropriately reflect the diversity of the neighbourhood.
The result is that most agencies don't benefit from the voices, ideas, and lived experiences of those who reside in the community.
Some people might be surprised to know that families comprise 38 percent of the neighbourhood and seniors, 25 percent. With higher rent costs, population growth and gentrification, the lives of residents are greatly affected. 
Empowering Residents to Directly Express Their Needs and Concerns
Let's Speak Up, created by the Downtown Eastside Neighbourhood House, is breaking down barriers to promote inclusive governance boards so residents can directly express their needs and concerns.
The program aims to develop an inclusive leadership charter to be signed by all 260 local agencies. It identifies community members who are interested to participate in local boards, and supports them in a variety of ways to do so.
Eliminating the Legal and Social Barriers to Inclusion
People who live in the Downtown Eastside face unique challenges to participating in community affairs. Often, board members of agencies must meet stringent regulations that disqualify local residents.
Less than 10 percent of agency boards appropriately reflect the diversity of the neighbourhood
For example, BC Societies Act forbids board members from receiving material gain, which restricts agencies from offering support to individuals who would be active contributors if their basic needs were met. The Canada Revenue Agency prohibits people with a history of bankruptcy or a criminal record from sitting on boards. Often the nomination protocols and bylaws of the agencies themselves disqualify many local residents.
And then there are the more subtle but equally potent barriers to participation.
Residents may have communication styles that differ from typical board members. They may lack the social equity, technical abilities, and financial acumen that are commonly expected. Add to this, discrimination, stereotyping and distrust of local residents, and it's easy to see how these crucial voices end up unheard.
Let's Speak Up has a wide-reaching plan to address these inequities, including working with legal and policy organizations to remove barriers that impede community involvement.
So far, the program has completed a survey, conducted analysis of the barriers to inclusion, created an Inclusive Governance Panel, and engaged 25 local residents as participants in the process.