You are here
Connections & Engagement Closer Look: The consequences of loneliness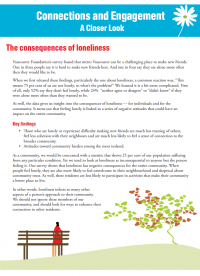 Vancouver Foundation's survey found that metro Vancouver can be a challenging place to make new friends. One in three people say it is hard to make new friends here. And one in four say they are alone more often then they would like to be.
When we first released these findings, particularly the one about loneliness, a common reaction was, "This means 75 per cent of us are not lonely, so what's the problem?" We learned it is a bit more complicated. First of all, only 52% say they don't feel lonely, while 24% "neither agree or disagree" or "didn't know" if they were alone more often than they wanted to be.
As well, the data gives us insight into the consequences of loneliness — for individuals and for the community. It turns out that feeling lonely is linked to a series of negative attitudes that could have an impact on the entire community.