You are here
Connections & Engagement Closer Look: Small steps to Big Change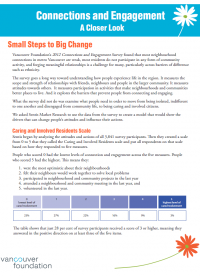 Vancouver Foundation's 2012 Connections and Engagement Survey found that most neighbourhood connections in metro Vancouver are weak, most residents do not participate in any form of community activity, and forging meaningful relationships is a challenge for many, particularly across barriers of difference such as ethnicity.
The survey goes a long way toward understanding how people experience life in the region. It measures the scope and strength of relationships with friends, neighbours and people in the larger community. It measures attitudes towards others. It measures participation in activities that make neighbourhoods and communities better places to live. And it explores the barriers that prevent people from connecting and engaging.
What the survey did not do was examine what people need in order to move from being isolated, indifferent to one another and disengaged from community life, to being caring and involved citizens.
We asked Sentis Market Research to use the data from the survey to create a model that would show the drivers that can change people's attitudes and influence their actions.