You are here
Our Community Report 2011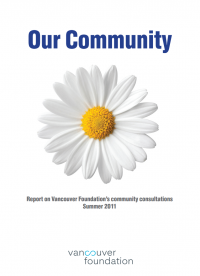 Vancouver Foundation's vision and long-term objective is healthy, vibrant, and livable communities.
Our mission is to mobilize the gifts of energy, ideas, time, and money to make meaningful and lasting impacts in communities. As a community foundation, we recognize that many things go into creating strong communities.
That's why, with our discretionary funds, we support a wide array of areas of interest: from arts and culture, to education and environment; from health and social services, to animal welfare, and children, youth and family issues. We are also a broad funder geographically, serving the entire province.
Our work in so many fields of interest and across such a broad geographic area with relatively limited discretionary dollars has meant that we have not made a significant impact in any one area.To use the old adage "we are a mile wide and an inch deep." So our broad approach as a funder is both an asset and our Achilles' heel.
In an effort to address the changing needs of the community, and of the Foundation and its donors, the Board of Directors in December 2010 adopted a new five-year strategic plan. The plan contained the following guiding principles:
Collaboration: We recognize that no one entity or sector can address complex issues alone. We must work together to leverage our collective knowledge.
Community self-direction: We recognize that communities have the right and responsibility to identify and address their priority needs.
Focus: We target our efforts and resources to maximize our effectiveness.
Impact: Our work needs to make measurable, sustainable impacts in the communities we serve.
Power of giving: We recognize that philanthropy plays a powerful and integral role in strengthening communities.
Systemic approach: We address root causes of issues, focusing both on issues today and prevention of issues in the future.