You are here
Fostering Change Messaging and Communications Guide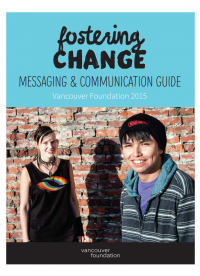 Fostering Change is an initiative to involve youth, their allies, supportive organizations, and engaged citizens across Metro Vancouver in conversation and action.
The goal: to ensure youth in government care have access to resources, opportunities, and consistent caring relationships they need to thrive in adulthood.
The problem: in BC, youth in foster care must leave care when they turn 19. Once they are discharged, they no longer have access to housing, healthcare, regular financial assistance, or a social worker to call in emergencies.
The most dramatic result: 40% of homeless youth have spent time in foster care.
Without visibility, awareness and engagement, the chance this complex issue will get the attention it deserves is low to zero.