You are here
Fostering Change Summary: Supporting Wellness Through Transitions Knowledge Exchange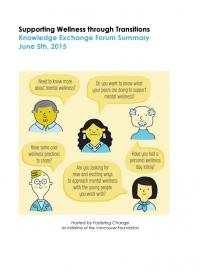 Background: During the development of the learning agenda for Fostering Change, mental health was identified as one of the critical challenges for service providers. Members of the Shared Learning and Evaluation working group shared information on the current state of mental health service provision, and through iterative conversation, the team discovered that front line staff were already using a wealth of activities and practices that supported mental wellness in youth.
They shared stories such as a hockey program for youth who had never played before, small five-minute mindfulness approaches, three-day canoe trips, and how going for a walk with a young person instead of sitting in the office yields a different and better conversation. None of these practices require clinical training but all support mental wellness.
While acknowledging that there are many systems challenges, and that the lack of availability for clinical services is a huge challenge (especially for those over 19), it is clear that there is a lot of expertise already residing among those who do this work every day.
The purpose of the Wellness Forum was supporting wellness for young people transitioning out of foster care by bringing together frontline staff working with young people to share their knowledge, expertise and questions.