You are here
A Better Connection 2011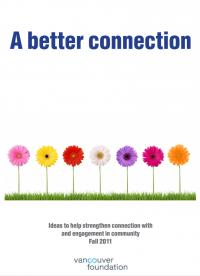 In the summer of 2011, Vancouver Foundation conducted a public consultation to determine what one or two community issues we should focus additional efforts on over the next three to five years.
Our work in this new priority area would involve some granting but it would also include other activity, such as research, public awareness and engagement, convening, partnerships, policy development, and possible advocacy.
Our consultations involved one-on-one interviews with 106 community leaders from a broad range of sectors, an online survey of 276 non-profits, and six "community conversations" that grew from the 2010 Vital Signs report.
We were intrigued by what people told us.