You are here
From Connections to Engagement: Pathways to a More Caring and Involved Citizenry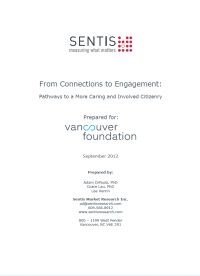 This report presents a model of several causal pathways that lead citizens to become more committed to their neighbourhoods and community, and more willing to take actions to solve problems or participate in activities that make neighbourhood and community better.
The model is based on the data collected from Vancouver Foundation's Connections and Engagement Survey conducted in the spring of 2012. The survey found that most neighbourhood connections are weak, most residents do not participate in any form of community activity, and forging meaningful relationships is a challenge for many, particularly across barriers of difference such as ethnicity.
The survey quantified the issues and challenges that exist. The model points to opportunities to address these issues and challenges effectively. It can be used as a tool by Vancouver Foundation and others, to identify how to direct investments and resources aimed at strengthening connections and fostering engagement.